Flying Focus Video Collective

February 2003 Newsletter
---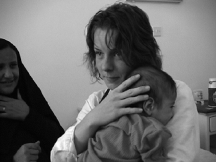 Three New Programs Focus on U.S. Iraq Policy
Flying Focus recently produced three programs with distinct approaches to the current U.S. policy in Iraq, perfect educational tools as the threat of a full-scale invasion hangs in the air.

The first, "Back to Iraq: State of the Sanctions 2002," (VB # 45.1) features video of a delegation from Voices in the Wilderness (VitW) delivering medicine and toys to hospitals, families and children. Along with 10 minutes of introductory comments by FFVC and VitW member Dan Handelman, the 18-minute video of Iraq includes interviews with Iraqi doctors and citizens, images from within Iraqi hospitals, tours of water and sewage treatment plants, and two civilian sites bombed during the 1991 "Gulf War."

A second, "Oregonians Speak Out for Peace," (VB #45.4&5) features interviews, speakers, and images from the October 5, 2002 "Rally and March for Peace," at which 10,000 people marched through Portland. It shows a variety of participants, and even a few onlookers, who had plenty to say about the U.S.' threatening war on Iraq.

The most recent program is a workshop by Goudarz Eghdetari, who spoke about "Iran and Iraq's Other Neighbors: US Foreign Policy" (VB #46.7) at a teach-in last December. Eghdetari, an educator and Iranian-American activist, outlines the interests of Turkey, Saudi Arabia, and the stateless Kurdish people, among others, and how those factors are influencing America's approach to Iraq.

Flying Focus has a fairly extensive variety of programs on Iraq dating back to 1991. See our full catalog or our website (

http://www.rdrop.com/~ffvc) for more info. We hope that disseminating this information will help the movement to stop the looming attack.
---
Julia Butterfly Hill Encourages Action for the Planet
"Julia Butterfly Hill: Stewardship of the Earth" (VB #46.1) features the energetic and free-spirited activist who climbed into a redwood tree and stayed there for two years, as she encourages us all to become "leaders" for a better world. Speaking at an outdoor festival in southern California in late September, Hill connects the destruction of the planet to consumption of resources, militarism, and American consumer lifestyles.
---
Video Bus Hosts Amnesty Show on Guatemala
In January, Flying Focus Video Bus featured a showing of a video documenting the lasting effects of another war supported by American tax dollars. "Digging For the Truth," prod