[FFVC Newsletters index] [FFVC Home Page]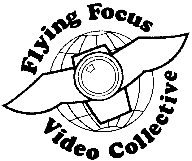 Flying Focus Video Collective

February 2005 Newsletter
PMB 248 • 3439 NE Sandy Bv • Portland, OR 97232
(503) 239-7456 • (503) 321-5051 • ffvc@flyingfocus.org
---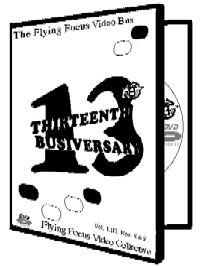 Flying Focus Produces First DVDs,
Celebrates 13 Years of Programming
The Flying Focus Video Bus celebrated its "Thirteenth Busiversary," (VBs #53.8&9) marking 13 years since our weekly half-hour program premiered on November 18, 1991, with two episodes in November, 2004. Seven volunteer producers, usually hidden behind the scenes, come before the cameras to introduce clips from their shows.
This year featured quite a number of shows revolving around the occupation of Iraq and the Israel/Palestine situation. Three shows featured (1) an American woman from a progressive think tank (2) an Israeli former soldier who refused to serve in Lebanon and supports others who refuse to serve in the occupied territories and (3) a Christian Palestinian minister. Others revolved around "organizing for change" (nonviolent communication, anger management, and cultural conflicts). Two-minute clips of these and other shows (some of which are also described in this newsletter) can be seen on the "Busiversary."
The Busiversary was the first-ever program of Flying Focus to be released on DVD in a limited edition. As you will see in our new catalog, we are currently offering all programs on DVD for a suggested donation of just $2 more than on VHS -- $11 for half hour shows, $14 for one-hour shows, and $17 for longer shows.
Conference Keynote Speaker Highlights Success of Nonviolence
Jack Duvall, author of "A Force More Powerful: A Century of Non-Violent Conflict," was the main speaker at a conference held in Portland in July, 2004. In the program named for that conference, "War, Peace and the Media" (VB #53.1), he discusses the drawbacks and successes of non-violent struggle. He points out that violent revolutions, particularly in the 20th Century, never have led to the establishment of stable, civil societies that are free and open. Duvall contrasts such struggles with examples like Gandhi's opposition to British rule in India, America's civil rights movement, and Polish union solidarity leading to the fall of an oppressive Communist regime there.
Visionaries Share Ideas
In addition to bringing out information that is usually ignored by mainstream media, we like to bring you ideas from people with a vision of a more peaceful, sustainable way to live. A couple of our new programs feature two very different people who share the courage to speak of love and to walk their talk.