[FFVC Newsletters index] [FFVC Home Page]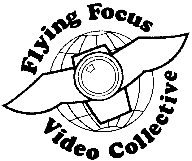 Flying Focus Video Collective

February 2006 Newsletter
PMB 248 • 3439 NE Sandy Bv • Portland, OR 97232
(503) 239-7456 • (503) 321-5051 • ffvc@flyingfocus.org
---
Two Shows Featuring Iraqi Unionists and Sanctions Challengers
Keep The Spotlight On US Policy In Iraq
Two Flying Focus shows continued our ongoing attention to U.S. policy in Iraq. In the first, "Iraq Labor Tour Visits Portland" (VB #56.10&11), Hassan Juma'a Awad, President, and Faleh Abood Umara, General Secretary, of the General Union of Oil Employees (GUOE) describe what life is like under occupation and continuing conflict in post-Saddam Hussein Iraq. They talk about the law that made unions illegal under Hussein and how American occupation chief Paul Bremer continued this law. In addition, they cover issues such as opposing globalization, the bias of the media, women's rights, the difference between governments and people, and ending the U.S. occupation of Iraq.
They also speak about a time when the Union shut down the oil industry to protest U.S. policies.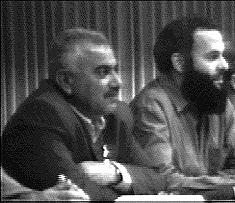 Faleh Abood Umara (L) told an enthusiastic audience of
Portland labor and peace activists that Iraqis need support to organize
workers and to end the American occupation.
The GUOE represents 23,000 workers in the oil industry in the south of Iraq, and has been strongly opposed to the occupation and threatened privatization of Iraq's industries. These are voices you are definitely not hearing in the mainstream press, voices of Iraq's working people who see strength in solidarity, who decry the random killing of civilians, and who oppose the U.S. presence in Iraq.
The men visited the U.S. as part of a tour coordinated by U.S. Labor Against the War (www.uslaboragainstwar.org). Their June, 2005 presentation was coordinated in Portland by Portland Jobs with Justice (www.jwjpdx.org), the Oregon AFL-CIO (oraflcio.unions-america.com), and a number of union and social justice groups.
The second program was taped by Flying Focus member Dan Handelman in Washington, DC last July as participants in the campaign Voices in the Wilderness (VitW) appeared in Federal Court ("Fined for Compassion: Voices in DC Court 2005," VB #57.2). At issue: a $20,000 fine the U.S. government imposed for VitW bringing medicine to Iraq in 1998. One day prior to the hearing, activi