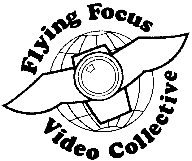 Flying Focus Video Collective

February 2004 Newsletter
PMB 248 • 3439 NE Sandy Bv • Portland, OR 97232
(503) 239-7456 • (503) 321-5051 • ffvc@agora.rdrop.com
---
John Lewis - Modern Day Hero

Rep. John Lewis of Georgia grew up in a small town in Alabama. In 1956, at the age of 16, he applied for a library card and was told they were for whites only. In 1998, he went back for a book signing for his book, "Walking with the Wind," and was given a card. "The Civil Rights Movement Then and Now" (VB #48.5 & 6) features a talk Lewis gave for the Archdiocese of Portland, Oregon about the intervening years. During this time, he studied non-violence in college, participated in sit-ins, marched with Martin Luther King, Jr., and was beaten by Southern mobs and police until almost dead. He spoke of the non-violent revolution of the civil rights movement and called for a similar movement to stop war and demand that our leaders use our resources to build a better world, not to kill. An inspiring speaker, John Lewis is one politician who walks his talk.
Kurdish Perspective
One of the most important human rights dilemmas in the Middle East is that of the Kurds. A half-hour program, "Kurdish Perspective" (VB #49.1), features Dr. Azad Mohammadi and Dr. Jon Mandaville in a discussion on Kurdish desire for regional and cultural autonomy. It addresses the impact of the war in Iraq on the Kurds, the war between Turkey and the PKK (Kurdistan People's Party) and the efforts to control the water supply. Presented April 24, 2003, about a month into the Iraq war, the speakers also discuss Saddam Hussein's war against the Kurds and mistrust of superpowers. Other topics covered include the secular Kurdish Democratic Party vs. the Islamic Patriotic Union of Kurdistan (PUK), the regional differences of Kurds in Iraq, Iran and Turkey, as well as Kurds' Jewish origins.
A Different View Of The Palestinian Question
Rev. Canon Naim Ateek is a Palestinian Anglican priest and the founder and director of the Sabeel Ecumenical Liberation Theology Center in Jerusalem. He is the author of "Justice and Only Justice: A Palestinian Theology of Liberation." He spoke at an August 2003 Conf