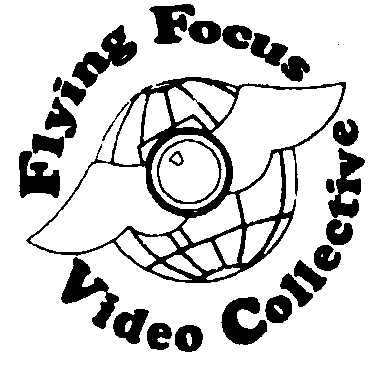 FLYING FOCUS NEWSLETTER
&nbsp

APRIL 1998

---
Eyewitness Video of Iraq Shows Alternative Point of View, Rare Footage
"Iraq, Seven Years Later: Eyewitness Accounts" (VB #26.8&9) is hosted by Dan Handelman, who visited Iraq in November 1997 with Voices in the Wilderness (ViTW) to deliver medicine to hospitals. The program features comments from members of the ViTW delegation, slides, photos, media analysis, clips from a February 3 demonstration in Portland against the threats of bombing, and rare video footage from the inside of a hospital and outside a sewage-ridden housing complex in Basra, Iraq. This footage is a portion of the 10 hours of videotape confiscated from Handelman by U.S. Customs in Detroit on his return to the U.S. The 2 two-and-a-half minute clips featured on this program were salvaged from a copy made before Handelman left Iraq.
Facts and figures about the U.S./U.N. sanctions, which according to UNICEF are responsible for the deaths of 4500 Iraqi children under the age of 5 each month, are presented along with the video clips and stills.
Also check out a companion piece "Turning Back a New Attack Against Iraq" (VB #27.1), which chronicles a 400 person demonstration held February 23 in downtown Portland.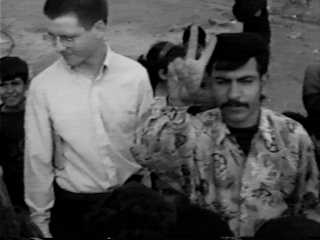 Iraqi man sends a peace sign to Flying Focus viewers in Iraq Seven Years Later
Sixth Busiversary Finds Flying Focus Moving Along
If you have our 1998 catalog and aren't sure what shows to watch, you may consider ordering one of our "Busiversary" compilation shows. The most recent one, the Sixth Busiversary (VB #25.8 & 9), features programs produced from December '96 to November '97 introduced by producers from Flying Focus. Programs listed in the April 1998 catalog insert will probably appear in next year's Busiversary.
New Tape Documents Dramatic Domestic Violence Project
"Witness This" (VB #26.2&3) is street theatre which graphically portrays domestic violence in many of the forms it takes in our community and makes us think about how we can help put an end to it. Written and performed by members of Hip Chicks and Activists, it takes place in the parks, streets and parking lots of North Portland. Eighteen organizations that work on issues of domestic violence in Portland are represented by individuals involved with the production. The play powerfully depicts the cruelties that people inflict on each other, the strength of the human spirit to survive, and inspires us to work for change.
It's a Sign -- Chimps Have Rights Too
Roger and Debbi Fouts have been working with chimpanzees since 1967 when Washoe was first taught to communicate with American Sign Language. They currently work at the Chimpa