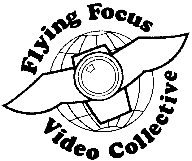 Flying Focus Video Collective

June 2000 Newsletter
http://www.rdrop.com/~ffvc
---
FFVC Releases WTO Protest Video
By Kyle Yamada
Seattle. How quickly the word has become the rallying cry for the gamut of progressive causes from labor rights to environmental protection. When 50,000 protesters crowded the streets of Seattle on November 30, 1999 to denounce the World Trade Organization (WTO) ministerials, Flying Focus was there. Armed only with a sign reading "Wage Trampling Oligarchy" and my dad's Hi8 camcorder, I set out to conduct numerous interviews with protesters in the streets and record the day's events.
The result was a pair of stinging eyes and our most popular program to date. In addition to the regular PCA broadcast, the half-hour Protest in Seattle: Resisting the WTO (VB #34.4) has reached viewers in the windy city via broadcast on Chicago Cable Access and engaged audiences in Eugene through a special screening at the University of Oregon. The program has won recognition at the Mid Oregon Production Arts Network's 2000 short film screening and has been requested by libraries at Reed College, Linfield College and Willamette University, to name a few. (Multnomah County Libraries alone ordered nine copies!).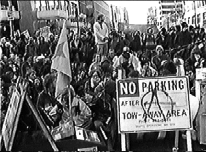 So enough bragging-what's this show all about? Protest in Seattle documents two key days (Nov. 30 and Dec. 2) of the tumultuous week-long demonstrations. The program weaves highlights from the organized labor march, Food and Agriculture Day and the sit-in at King County Jail together with numerous interviews, instances of police aggression and a foray into the constitutionally dubious "no-protest" zone. In short, it gives a quick, cogent overview of the major events and issues at stake in Seattle.
Most significantly, I took special pains to represent the diversity of opinion among the activists in Seattle. Although the importance of solidarity became amply clear in the face of police provocation, it was no reason to paint the demonstrators as one monolithic force bent on a single objective. By giving individuals the chance to speak for themselves, Protest in Seattle offers a perspective on the demonstrations that was largely absent from the mainstream media.
Sister Helen Prejean on the Death Penalty
"The mandate and the mission is formed when we have witnessed something that we know is an injustice..."
--Sister Helen Prejean
Sister Helen Prejean has worked for social justice and the elimination of the death penalty in the United States for nearly twenty years. In a February 2000 lecture in Portland, Sister Prejean shared her experiences working in the St. Thomas Housing Project in New Orleans, witnessing the poverty, lac