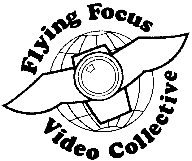 Flying Focus Video Collective
PMB #248
3439 NE Sandy Bv
Portland, OR 97232
ffvc@agora.rdrop.com
http://www.rdrop.com/~ffvc
Using video as a tool for social change
July, 2001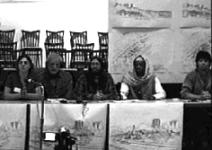 Homeless Create Dignity Village
Portland's Dignity Village is a "safe, clean community-based alternative for those who are currently seeking shelter but are unable to find it," according to a proposal drafted by street roots and City Repair Project. In six months the village grew to a community of 80 people living in tents with a food preparation area, portable toilets, a storage tent, and a heated watch tent. During this time they were forced to move several times by government officials. In May, 2001, the community was informed by Erik Sten of City Council that they had until the end of June to vacate the land and that they would be arrested if they tried to set up again. In "Dignity Village 2001 and Beyond" (VB#39.13), villagers and supporters present their proposal for a permanent site and ask the City of Portland for a permanent home. Thankfully, the week we cablecast this program, they were granted an extension at the last minute to stay where they are for one year, and the City seems willing to discuss permanent plans.
Animal Research Doesn't Help Humans
The medical research establishment tells us that research on animals is necessary to obtain information about human conditions and cures for human illness. In "The Human Cost of Animal Research" (VB#39.8&9), Dr. Ray Greek, a physician, medical school instructor, and former animal researcher, debunks that myth. In his talk and slide show, he describes the fallacies involved in extrapolating the results of animal experimentation to humans. He explains why animal research is so prevalent, even though it does not contribute to human health and is actually a waste of taxpayers' money.
Hip-Hop Benefit
William Upski Wimsatt, the author of Bomb the Suburbs and No More Prisons spoke last year at a benefit for the Active Element Foundation and the Independent Publishing Resource Center. An impassioned proponent of the hip-hop culture, he covered a variety of issues, including community organizing, the need to bring different groups together, rape, how the prison industry is like lip balm, and the cool rich kids' philanthropic movement (Check out VB#38.3&4, "No More Prisons").
Helping the Chimps
Comedian Kevin Nealon hosted the first annual Non-Fatal Bite held in Portland in August, 2000, on