---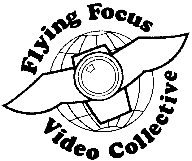 Flying Focus Video Collective

August 2002 Newsletter
http://www.rdrop.com/~ffvc
---
"War on Terrorism" and Related US Policies Prompt Four Programs
Since January, Flying Focus has produced four programs relating to US policy in the post- September 11 world.

One focuses on US foreign policy in Iraq, as it relates to the "War on Terrorism" and America's domestic problems. "Iraq Peace Gathering: 11 Years Later" (VB #42.10&11) features a vigil held by Peace and Justice Works on the 11th anniversary of the so-called "Gulf War." Speakers include an Iraqi-American woman, members of the American Friends Service Committee and Northwest Veterans for Peace, and a representative of Dignity Village, Portland's mobile tent city for the otherwise homeless. There is also a short analysis by Zaher Wahab, an Afghan- American professor who connects the war on Afghanistan and US sabre-rattling in Iraq (which continues well over 6 months later). Speakers focus on the devastation caused by sanctions and war, and call for change.

Another country affected greatly by US sanctions is featured in "International Women's Tribunal Against the Blockade on Cuba" (VB #44.3). Flying Focus member Yvonne Simmons went to the Tribunal in Cuba this past March, and put together interviews with several members of the informal judge's panel. They include Fatima Meer of South Africa and Denis Halliday, former UN Humanitarian Coordinator in Iraq. Yvonne also talked to Corinne Kumar of El Taller International, founder of the women's world courts, and videotaped local music. The focus of the Tribunal was the Cuban embargo as a human rights violation.

"Cross-Cultural Understanding" (VB #41.13&42.1) covers a workshop given about a month after the start of the war on Afghanistan. It provides information to help end racism and cultural misunderstandings. Counselors Pari Mazhar, President of the Iranian Women's Association of Oregon, and Gabrielle Ross, diversity trainer, lead a discussion which addresses many forms of racism, including anti-Muslim and anti-Arab sentiments after 9-11, emphasizing women's issues.

Christian Parenti, the author of "Lockdown America," gave a talk later in November covering civil liberties concerns at home and a history of US involvement in Afghanistan. He discussed the USA/PATRIOT act, which allows much greater intrusion by law enforcement into people's lives, and other acts of Congress and the Justice Department that threaten to set back human rights here in the "homeland." Despite the frightening subject matter, Parenti manages to keep his talk inspirational. ("Christian Parenti: The Effects of September 11," VB #43.4&5).
---
Finding Peace Amidst War
Women congregate in a community center in Jan Haaken and Caley Haymann-Haaken's documentary "Diamonds, Guns and Rice," featured in our program "Women Working for Peace in Sierra Leone" (VB # 42.8&9).
---
Ken Wiwa Brings Father's Legacy to Light
In "Ken Saro-Wiwa, Nigeria and Big Oil" (VB