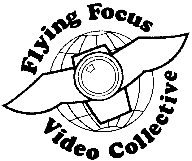 Flying Focus Video Collective

August 2003 Newsletter
PMB 248 • 3439 NE Sandy Bv • Portland, OR 97232
(503) 239-7456 • (503) 321-5051 • ffvc@agora.rdrop.com
---
Noted Author, Prisoners' Rights Activist
Carl Upchurch on Video Before Untimely Death
Flying Focus was lucky to have the opportunity to videotape "Convicted In The Womb: One Man's Journey from Prisoner to Peacemaker" author Carl Upchurch when he spoke in Portland in February 2003. Upchurch, a nationally acclaimed author and educator, passed away on May 2 at the age of 53.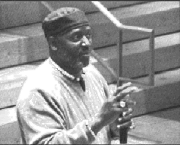 Ten years of incarceration defined Upchurch's faith, his family, and ultimately his life's work.
Since 1982, Upchurch tended to the needs of thousands through his work with prisoners, his public speaking, his writing and his leadership. Using colorful language and detailing in emotional terms how he rose from a gang member and a thug to a caring human being, his speech is an amazing revelation of the power of self-discovery. While imprisoned in solitary confinement, his chance discovery of a Shakespeare sonnet started his self analysis and was the beginning of his evolving into an important national figure.
Edited by new Flying Focus volunteer Harry Shaich, "Convicted in the Womb" (VB #47.12&13) is a compelling and rewarding experience. For more information see http://www.carlupchurch.com.
---
Forum Urges End to Hate Crimes
On January 19, 2003 four drunk white men drove through a NE Portland neighborhood, firing at homes and cars with a sawed-off shotgun. They chose the area because they believed blacks lived there, although, ironically, about half of the property that was hit was owned by whites.
Outraged residents, church leaders and community organizers brought the community together for a "No On Hate Forum," covered in VB #46.9&10. A panel consisting of a police detective from the Bias Crime Unit, an FBI agent, a PSU sociology professor and a city council member talked about hate crimes from their varoius perspectives. An open mic session followed in which residents and activists talked about their experiences of hate crimes and the organizations that are working to end them, such as the NAACP. Participants called on the media and local government yet again to treat these incidents more seriously and the community as a whole to work together to that end and not just have a public showing designed to pacify discontent.
---
Three Programs Focus on Activism
and the Current War on Iraq
Three recent Flying Focus programs feature activists who worked to oppose the onset of the current war on Iraq (although many think the war ended when the statue came down, it continues today).
The first, "Conscience Calls to Action" (VB #47.4) chronicles a March 19 civil disobedience action which took place in Portland less than 7 hours before the U.S. launched its massive attack on Iraq. A small grou