[FFVC Newsletters index] [FFVC Home Page]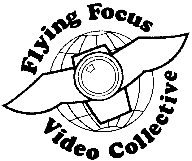 ---
Flying Focus Video Collective
August 2007 Newsletter
PMB 248 • 3439 NE Sandy Bv • Portland, OR 97232
(503) 239-7456 • (503) 321-5051 • ffvc@flyingfocus.org
---
Fall 2006 Iran Presentations Raise Questions Out of Mainstream
The American Iranian Friendship Council (AIFC) sponsored a day-long forum at Portland State University on October 29, 2006. Two Flying Focus programs capture most of the day's events.

The keynote talk by William Beeman, author of "The 'Great Satan' vs. the 'Mad Mullahs'," is featured in "Iran: William Beeman Examines US Policy" (VB #62.4&5). Beeman covered extensively the facts behind Iran's nuclear program--which is about atomic energy, not atomic bombs. He notes that the US supported the program before the Shah was ousted in 1979. Beeman also covers questions such as: Why doesn't the US pursue Pakistan, India or North Korea as aggressively, when all three nations have set off nuclear weapons and are not signatories to the Non-Proliferation Treaty (which Iran is)?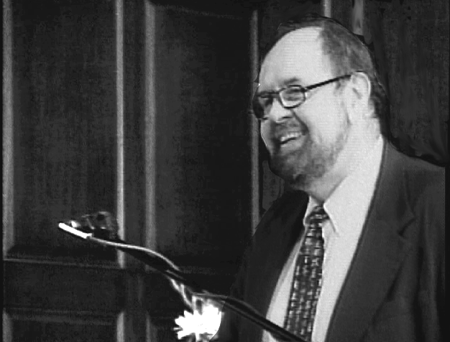 Keynote speaker William Beeman

He also points out that despite our government's efforts to portray Iran as a dictatorship, their governmental structure is far too complicated to allow President Ahmadinejad to launch a war on his own.

The subsequent panel discussion featured Rostam Pourzal of the Campaign Against Sanctions and Military Intervention in Iran, human rights advocate Soheila Vahdati and local commentator and activist Ronault Latang Sayang Catalani (Polo). This second show took its name from the event's: "Iran Forum: A Path Out of Crisis?" (VB #62.8&9).

Pourzal speaks of the unintended consequences of linking political issues to human rights issues, such as the U.S. using devastating unilateral military action in the name of saving lives. Vahdati talks about the progress made by women in Iran, despite the imposition of the veil, including a campaign against the stoning of women. Polo relates his experiences in Iran as the 1979 revolution came about.

Flying Focus continues to get information out as the U.S. builds up military might and continues to make provocative statements and actions against Iran. For more information visit http://www.aifcpdx.org.
Women Protest Nuclear Missiles at Scottish Base
Faslane 365 is a one year continuous peaceful resistance of the British Naval Trident Missile Base at Faslane on the river Clyde, Scotland. In one Video Bus episode, FFVC associate Yvonne Simmons reports back from the first three days of the blockade in October, 2006 ("Faslane 365: Protesting Trident Missiles in Scotland," VB #63.3), organized by Greenham Common women and Women i