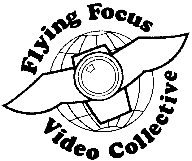 Flying Focus Video Collective

November 1999 Newsletter
http://www.rdrop.com/~ffvc
---
Global Economy versus Democracy
In late November, dignitaries from around the world will be discussing the future of the World Trade Organization, an economic behemoth which hopes to cancel out any local legislation which stands in the way of "free trade."
Flying Focus has produced many shows based on talks given at the two "End Corporate Dominance" conferences here in Portland in May 1998 and 1999. In "Corporate Dominance of the Initiative Process" (VB#33.2&3) Lloyd Marbet examines the subversion of Oregon's unique ballot initiative process. Howard Lyman exposes how large food-producing corporations abuse animals and people's health in "What the Food Industry Won't Tell You" (VB #32.1&2). And the show "Brian Tokar: End Corporate Dominance" (VB #31.12), discusses bioengineering along with environmental hazards posed by globalization. For information on these and other shows, see our catalog insert.
Flying Focus member Yvonne Simmons also gathered footage at a national conference of the Women's International League for Peace and Freedom focusing on the world "market economy," speaking to a rainbow of women about their alternative visions ("Bread and Roses: Women Define Globalization" - VB #31.5).
David Korten, whose name became synonymous with taking on corporate gigantism with his first book "When Corporations Rule the World," visited Portland in June 1999. FFVC's resulting video "Beyond Corporate Dominance" (VB #31.9&10) covers his discussion of his newer book, "The Post-Corporate World" with suggestions on how to organize on a grassroots level to buy local and not necessarily think global.
Merger Threatens Democracy, News Pending
To paraphrase someone we might not want to paraphrase, in order to have a free country you need an informed electorate. The merger of AT&T and TCI is one that aims at monopolizing communications nationwide. Consolidating telephones, Internet, TV and cable--including channels set aside for cable access-- threatens not only our access to information we need to make good decisions, but may also threaten the future of Flying Focus' ability to put programs on cable. In addition, corporate giants like Disney and GE, which own ABC and NBC, as well as large and small Internet service providers like ours (Raindrop Labs) could be frozen out if AT&T/TCI decide not to allow them access to their systems. This is not a conspiracy, but a natural trickle down fallout of doing business--in the capita