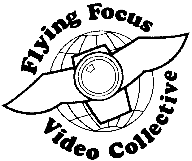 Flying Focus Video Collective
PMB #248 - 3439 NE Sandy Bv
Portland, OR 97232
(503) 321-5051, (503) 239-7456
ffvc@agora.rdrop.com
http://www.rdrop.com/~ffvcJanuary 2001 Newsletter

---
Iraq Sanctions Weaken, US Customs Returns Confiscated Videos
In July, 2000, Flying Focus member Dan Handelman announced that he had received back from U.S. Customs all of his film and video of Iraq which had been seized in 1997. Dan traveled with the group Voices in the Wilderness to deliver medicine to Iraqi children suffering under the U.S./U.N.-imposed embargo, which has caused the deaths of hundreds of thousands of Iraqis since 1990.
After the ACLU of Michigan and the Center for Constitutional Rights filed a lawsuit in September, 1999, Customs agreed to settle out of court, return all of the seized items, and pay damages and attorney's fees of $15,000*.
In "People's Victory: U.S. Returns Confiscated Video of Iraq" (VB #36.4), Dan shows clips from the 6 hours-plus of footage which had been taken out of the public spotlight for two and a half years. As an ACLU-Oregon staff person notes on the program, this was a victory for the First Amendment. The U.S. was claiming the videos were "goods or services of Iraqi origin" rather than constitutionally protected free speech.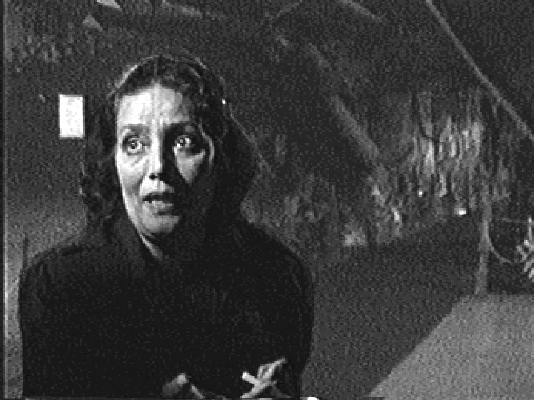 Dan also rounded out his four-part series based on the October 1999 National Organizing Conference on Iraq Sanctions. In "U.S. Propaganda: Iraq in the American Media" (Part 3, VB #35.13), three panelists discuss the bias of the so-called free press in its mainstream incarnation. Robert Jensen of the University of Texas in Austin notes that a number of factors including tremendous political pressure keep journalists from printing the whole truth. Hussein Ibish of the American-Arab Anti-Discrimination Committee shows how the movie "Three Kings" humanizes Iraqis yet manages to be bad for the anti-sanctions movement. Ali Abunimah of the Arab-American Action Network of Chicago relates abuses in the American press, including how focusing on one man (Saddam Hussein) distracts from the struggles of 22 million others.
In "Organizing Faith Communities Against Iraq Sanctions" (Part 4, VB #36.13), a minister and a nun from the Detroit area describe their uphill efforts to get their congregations to pay attention to the tragedy in Iraq from a moral perspective. A Muslim staff person from LIFE for Relief and Development explains how their aid efforts came about through organizing in mosques, and an activist with Global Muslims for Peace and Justice in California cites passages of the Koran urging people to take action when they see injustice.
All four parts together (including "Getting Resolutions Passed" and "Prof. Richard Garfield: The Oil-for-Food Program") are available for a donation of $28, as opposed to the ordinary suggested donation of $9 per half-hour show. See our new catalog insert for other information on ordering tapes.
* After covering expenses and lawyers fees, Dan was able to donate just over $300 of this settlement money to Flying Focus. Thanks, Dan!
street poetry
street roots is a non-profit organization dedicated to publishing a monthly paper with words and art of disenfranchised people. Their mission statement is to "make sure that at least 50 percent of all writing is written by homeless or very low-income people, that homeless people have op- portunities to sell the paper, and that as we succeed financially, homeless people will be trained (if necessary) and hired as paid staff". In addition to the paper, they have formed a writers' group, started a "legal campground" campaign, and are involved in the recently formed "Theatre as Medicine" troupe in Portland. In Flying Focus' program "street poetry" (VB #36.7&8), members of the writers' group share their diverse and heartfelt poetry in a public reading at the Multnomah County Library.
Focusing on Human Rights
Several shows this season dealt with human rights issues around the world. "Tibet in Focus" (VB #36.10&11) featured Joanne Lau of Amnesty International talking with Tashi Tsering and Jigme Topgyal of the Northwest Tibetan Cultural Association about the oppression of Tibetans by the Chinese occupation. They covered a wide range of issues, including torture, forced sterilization, population transfer, religious and cultural persecution. The program concluded with discussion of the Dalai Lama's upcoming visit to Portland in May 2001.
In "Genocide and Humanitarian Intervention" (VB #37.12), William Schulz, Executive Director of Amnesty International USA, talked at Portland State University in Portland, OR on October 2nd, 2000. Using the examples of Rwanda, Cambodia, and Bosnia, he criticizes the often inconsistent and ineffective responses of western governments to genocide and other massive human rights violations. He argues that human rights are everyone's business, and that we all have a stake in protecting them.
The OCA at it Again
The OCA was back this year with another discriminatory anti-gay initiative on the Oregon ballot. This one was disguised as the "Student Protection Act" in an attempt to play on parents' fears. Ballot Measure 9 would have made it illegal for public schools and teachers to portray homosexuality or bisexuality in anything but a negative light, making it all but impossible to support gay and bisexual youth. The measure could also lead to book banning, and cause a host of other problems for a population that has had more than its share of persecution.
The initiative was defeated by a tiny margin at the polls. Lon Mabon, one of the promoters of the measure, was quoted in the Oregonian as saying that with more money, he was sure they could have won. Unfortunately, they have already filed a new initiative and will probably be collecting signatures by the time you read this.
Flying Focus produced two programs this year in an effort to educate the public on the issues raised by the initiative and to promote equality and diversity. The first, "Come Out and Campaign" (VB # 36.2) features Basic Rights Oregon, the National Gay & Lesbian Task Force, and others training volunteers to go door-to-door and educate voters about the initiative. This program would be useful to any group interested in the basics of canvassing, and is heartening in that it shows face-to-face contact can be fun, not scary..
The second program, "Interfaith Service for Equality" (SE#98), is a church service/rally with straight and gay leaders from Christian and Jewish faiths in Oregon speaking out against the initiative. The service was organized by religious people who were tired of seeing their spiritual beliefs associated with homophobia and discrimination. Their personal stories - and pleas for tolerance and diversity - may restore your faith in faith.
Carol Adams:
The Sexual Politics of Meat
Carol Adams is the author of The Sexual Politics of Meat, a provocative book which points out the connections between the oppression of women, animals, people of color, gays and lesbians, and the poor. She postulates that through the power of the absent referent and fragmentation (lambs are chops, cows are burgers, women are chicks or blondes), those who are not in power are objectified and able to be dominated. In our new program featuring Adams (SE #97), she celebrates the 10th printing of her book with a lecture and slide show. She visually demonstrates her theory and asks us to become more compassionate beings.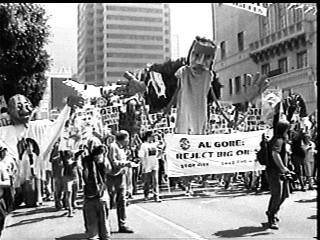 Protest in L.A.:
More Background on Election 2000
If you aren't sick and tired of thinking about the recent Presidential election, you may want to check out a half- hour program documenting the people's movement outside of the 2000 Democratic National Convention in Los Angeles ("Protest in L.A.", VB #37.2). Last August thousands of activists demanding economic justice, environmental protection, equality for women, immigrant rights and human rights converged to bring their message of democratic participation to the self- proclaimed party of the people.
Flying Focus producers Kyle Yamada and Debbie Levy documented the week's events, including: a rally against Al Gore's connection to Occidental Petroleum; an action to commemorate immigrants killed at the US/Mexico border; a march supporting sweatshop workers; police repression; and alternatives to the two-party "duopoly."
Kyle and Debbie also assertively distributed their tape via the Internet and national networking. As a result, the show was seen in over 39 states, on over 30 cable access stations, and in public screenings in San Diego, Hood River, Eugene, and elsewhere.
Ninth Busiversary:
Experimenting with Digital Editing
Our "Ninth Busiversary" came and went this November 18th, marking 9 full years for the Flying Focus Video Bus. Once again, we produced two half-hour programs to look back at the shows we made and allow the producers to come out from behind the cameras and show what they look like. But this year's show was different in that we used the Digital Edit Suite at Portland Cable Access, cutting out one or two generations of video. Using digital to produce the show improves both the quality of the final image and the ease of editing.
While the experience yielded a lot of benefits, the downside of editing at Cable Access is sharing the facilities, meaning we had to spend nearly one and a half hours uploading our footage to the computer and then saving it at the end of each session. Digital editing could revolutionize our progressive video-making if we could buy our own digital editing system. There is one system we're looking at which costs just under $2000; others range from $5000 to $10,000. We have asked you, our supporters, to help us out in the past and there has been some response, but not enough to get us the equipment we will need to keep up in the digital age. Please be generous if you can so we can continue to make videos that make a difference!
In addition to editing equipment, we will need Digital-S, or D-9 tapes beginning in February as PCA converts its playback equipment to all digital. If you want to sponsor one program, a 30- minute tape costs $25. An hour-long tape costs $35. We hope to find a supplier of used D-9 tapes who can donate them to us as a tax-deductible donation. In the meantime, your money will help keep Flying Focus on the "air."
Also, looking toward the future, we are working with Portland's new Indymedia center (portland@indymedia.org or www.portland.indymedia.org), and possibly PCA, to provide streaming Flying Focus programs directly to your computer. Thanks for your support!
[Back to Newsletter index page]