Flying Focus Video Collective

February 2003 Newsletter
---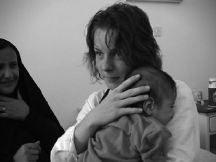 Three New Programs Focus on U.S. Iraq Policy
Flying Focus recently produced three programs with distinct approaches to the current U.S. policy in Iraq, perfect educational tools as the threat of a full-scale invasion hangs in the air.
The first, "Back to Iraq: State of the Sanctions 2002," (VB # 45.1) features video of a delegation from Voices in the Wilderness (VitW) delivering medicine and toys to hospitals, families and children. Along with 10 minutes of introductory comments by FFVC and VitW member Dan Handelman, the 18-minute video of Iraq includes interviews with Iraqi doctors and citizens, images from within Iraqi hospitals, tours of water and sewage treatment plants, and two civilian sites bombed during the 1991 "Gulf War."
A second, "Oregonians Speak Out for Peace," (VB #45.4&5) features interviews, speakers, and images from the October 5, 2002 "Rally and March for Peace," at which 10,000 people marched through Portland. It shows a variety of participants, and even a few onlookers, who had plenty to say about the U.S.' threatening war on Iraq.
The most recent program is a workshop by Goudarz Eghdetari, who spoke about "Iran and Iraq's Other Neighbors: US Foreign Policy" (VB #46.7) at a teach-in last December. Eghdetari, an educator and Iranian-American activist, outlines the interests of Turkey, Saudi Arabia, and the stateless Kurdish people, among others, and how those factors are influencing America's approach to Iraq.
Flying Focus has a fairly extensive variety of programs on Iraq dating back to 1991. See our full catalog or our website (http://www.rdrop.com/~ffvc) for more info. We hope that disseminating this information will help the movement to stop the looming attack.
---
Julia Butterfly Hill Encourages Action for the Planet
"Julia Butterfly Hill: Stewardship of the Earth" (VB #46.1) features the energetic and free-spirited activist who climbed into a redwood tree and stayed there for two years, as she encourages us all to become "leaders" for a better world. Speaking at an outdoor festival in southern California in late September, Hill connects the destruction of the planet to consumption of resources, militarism, and American consumer lifestyles.
---
Video Bus Hosts Amnesty Show on Guatemala
In January, Flying Focus Video Bus featured a showing of a video documenting the lasting effects of another war supported by American tax dollars. "Digging For the Truth," produced by Amnesty International, tells the story of Denese Becker, formerly known as Dominga Sic Ruz, who was orphaned in the violence that took the lives of 200,000 Guatemalans in thirty years of civil war.
Her parents and hundreds of others were killed by the Guatemalan military and paramilitary forces in her community. She was given up for adoption and was adopted in the United States. The video shows her return to Guatemala, her encounters with surviving members of her extended family, and portrays the efforts of activists to ensure that the victims are remembered, and that truth and justice are served. This video is not available through the Flying Focus catalog. Call Amnesty International Group 48 at 503-227-1878 for more information.
---

Order Flying Focus Audio Tapes

You don't have to have cable TV to stay informed; that's why Flying Focus makes video tapes available by order. Let's say you've seen titles you'd like to learn more about. You may also be short on time to watch a video. Maybe talks on audiotape fit your schedule better. Similar to books on tape, talks on tapes would bring you the audio portion of speakers you've known of and been inspired by...like Noam Chomsky, Michael Parenti, Howard Zinn, Julia Butterfly Hill and many others. Review our catalog titles and contact us with your request.

Audio tapes are available for $2 less than suggested donation for videos ($7 for 1/2 hour, $10 for 1 hour, $13 for over 1 hour).

---
Economic (In) Justices
Three new programs focus on economic issues, moving from the global to the local.
Activists from Africa and the Jubilee USA Network gathered in Portland to discuss the debt that has been imposed on Southern countries by Northern countries through the World Bank and the IMF. They expose the debt as illegitimate, causing great hardship to people in the South and encourage that it should be canceled in the "Break Free from Debt: A Dialogue between Jubilee North and South," VB #44.5.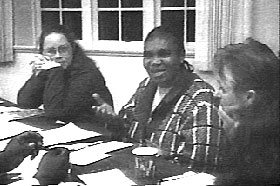 In "Children as Economic Commodities" (VB # 44.8&9), Marilyn Sewell of the First Unitarian Church in Portland, spoke in the second lecture of a series presented by the YMCA's Child Care, "Strong Kids, Strong Families and Strong Communities." She focused on the great harm done to children by viewing them as target markets rather than human beings, and the urgent need for a redefinition of values if children are to thrive and become responsible adults.
The third program, "The History of the Sustainability Movement in Portland (if there is one)" (VB #45.12) is the first of a proposed series on sustainability. In this program, Eric Malin, co-founder of Portland's Institute for Sustainable Culture, spoke at a Red Rose class about the history of the movement in Portland in the '90's and questions whether there was an actual movement if people were working as individuals to use less of the world's resources, without acting as part of an organized group.
---
Eleventh Busiversary Rolls Around
Our producers gathered at a pot-luck to videotape introductions for this year's annual retrospective show, the "Eleventh Busiversary" (VB #45.8&9) marking 11 years since our weekly half-hour program premiered in 1991.This show features most of the 9 program producers / videographers and the work of a dozen or so other volunteers who helped make our 2001-2002 season one of the most varied in memory. From shows featuring footage inside Cuba and the border of Sierra Leone to analysis and activism following September 11, to local and global economic and environmental issues and children's concerns, you will see clips from 17 programs and get a sense of what we're doing to educate people on issues of social change.
---
September 11 Victim's Family Member Speaks for Peace
Kelly Campbell, a co-founding member of September 11 Families for Peaceful Tomorrows, gave a talk in June, 2002 in Portland. She recounted her experiences hearing about the death of her brother-in-law at the Pentagon and how that eventually led her to a peace journey to Afghanistan. Peaceful Tomorrows is made up of family members of victims of the September 11 suicide hijackings in New York, Pennsylvania and DC who are promoting peace as a solution (check out their website at http://www.peacefultomorrows.org).
Campbell relates, with slides, the stories of the Afghan families she met, and what can be done to help the innocent victims of U.S. bombing in Afghanistan as a way to honor those who died here in America. This one-hour program will tear at your heartstrings and inspire you to action ("Kelly Campbell: September 11 Families for Peace," VB #44.10&11).
---

Late Night Reruns Begin

We know that not everyone can watch our weekly show when it plays back in prime time Mondays and Fridays (8 PM Ch 22 and 9:30 PM Ch. 11 respectively) or even opposite the news at 11 PM (Wednesdays, Ch 23). So we've decided to re-play some of our "Speakers and Events" programs at various times of the day---and night--to provide more opportunities to get educated. "Howard Zinn:1492-1992, Reclaiming the People's History" (SE #10), will show at the following times:

| | |
| --- | --- |
| Ch. 22 | Wednesday, 2/5/03 12:30am |
| | Saturday, 2/8/03 12:30am |
| Ch. 23 | Tuesday, 2/11/03 12:00am |
| | Thursday, 2/13/03 12:00am |

---