[FFVC Newsletters index] [FFVC Home Page]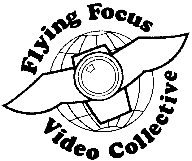 ---
Flying Focus Video Collective
February 2011 Newsletter
PMB 248 • 3439 NE Sandy Bv • Portland, OR 97232
(503) 239-7456 • (503) 321-5051 • ffvc@flyingfocus.org
---
The End of an Era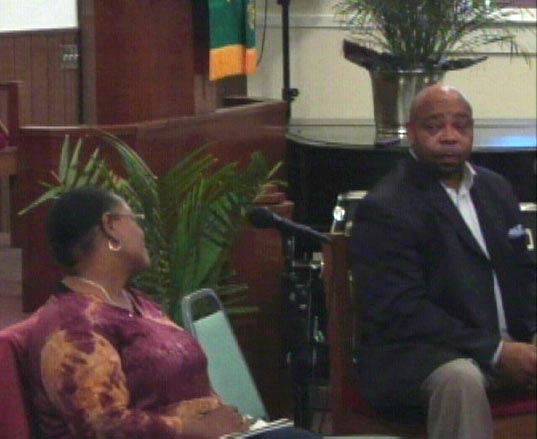 The Restorative Listening Project (RLP) held a very special meeting on September 20, 2010 at the AME Zion Church. The three year point marked the end of the focus on gentrification and a discussion of where to go next. John Canda and Celeste Carey were the speakers for the evening, reflecting deeply on their experience of moderating the previous events. This was an extremely moving meeting as John and Celeste and members of the audience described how racism has affected them as people of color in a gentrifying area with disappearing community networks and supports. Highlights of the meeting can be seen in the fifth Flying Focus program about the RLP, "Turning Point" (VB #78.2 & 3).

--Clip--
Celeste Carey and John Canda at the Restorative Listening Project
Diverse and Thriving Classrooms
On October 2, Sonia Nieto, a prominent writer on multicultural education, delivered the keynote address at the 3rd Annual Northwest Teaching for Social Justice Conference at Madison High School in Portland. Nieto's talk is the subject of "Diversity and Thriving in Schools" (VB #77.12&13). Nieto is the author of "What Keeps Teachers Going?" and the editor of "Why We Teach."
In her talk, Nieto uses interviews with teachers from around the country to address topics like "Teachers who have confronted their own assumptions and biases are effective with students of diverse backgrounds," and questions such as "What does it mean to thrive?" Our weekly show strives to educate the public about social justice issues--this program is about how teachers can create social justice in the classroom. For more information see Rethinking Schools' website at www.rethinkingschools.org.

--Clip--

To Medicate or Not to Medicate?
Pulitzer finalist and George Polk Award winning writer Robert Whitaker is a highly controversial scientific journalist covering medicine and science. His latest book, "Anatomy of an Epidemic: Magic Bullets, Psychiatric Drugs, and the Astonishing Rise of Mental Illness in America" recognizes the usefulness of medications for some people but reveals a consistent and disturbing pattern from half a century of medication effectiveness research -- that long term psychiatric drug treatment may create far more serious problems than the original malady.

Whitaker spoke in Portland on August 19, 2010 at the First Congregational Church. In "Just Say No to Psychiatric Drugs?" (VB #77.4&5), he notes that if our society is going to stem the epidemic of disabling mental illness that has erupted during the past twenty years, we need to have an honest discussion about what is truly known about the biological causes of psychiatric disorders. Whitaker also encourages discussion about how the medications affect the long-term course of those disorders. He explains how he, starting as a true believer, followed the evidence provided by research, how the chemical imbalance theory of mental disorders arose, how it was investigated, and how it never panned out. This involved an exhaustive survey of studies conducted (or funded) by the National Institute of Mental Health, the World Health Organization, and foreign governments for the past 50 years. On a brighter note, he speaks about a Finnish program for treating psychotic patients with more options than just medication that was producing excellent results. Just say no? You be the judge.
Flying Focus Marks 19 Years with the New "Busiversary"
What do electric vehicles, nuclear weapons, gentrification, corporate personhood, the situations in Gaza, the Congo and Peru, psychiatric drugs, animal rights and a vegan diet have in common? They were all subjects of shows on the Flying Focus Video Bus between November 2009 and November 2010. Looking back at short clips from these 25 episodes, our volunteer producers come out from behind the cameras to share why the topics are so important for social justice on the "Nineteenth Busiversary" (VB #77.8 & 9)). The Video Bus has been running weekly since November 18, 1991.
The Busiversary was compiled by Dan Handelman, with clips from Barb Greene, Yvonne Simmons and Daniel Webb. PC Peri, our field footage coordinator, appears to talk about the eight shows he taped for the group. Some clips are already up on the web at www.flyingfocus.org/videoclips.html, but you can hear first-hand from our producers by watching the Busiversary.
Back to Peru: Women Celebrate Justice, Families Still Recovering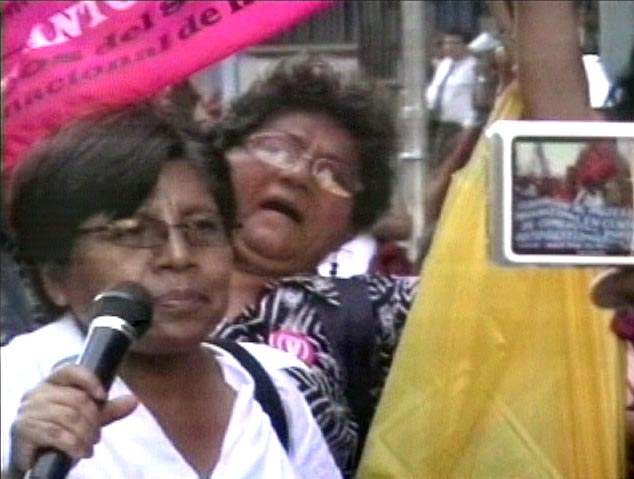 In early 2010, Flying Focus producer Yvonne Simmons traveled once again to Peru as part of the Las Lomas Project. First she participated in the International Women's Day March, which included people from all over Peru. The colorful and lively parade stopped at financial institutions and government buildings to call attention to economic and social justice issues, while banners and placards reminded the people that abuse of women and children must end. This is included in "Las Lomas and International Women's Day" (VB #76.5, Peru 2010 part 1).
Peruvian women speak to the crowd during the Women's Day march

Yvonne also returned to the areas affected by the earthquake a few years earlier, finding that not much has changed, as no rebuilding has been done. Yvonne continued her work with children in the area, including at Centro Proceso Social in Las Lomas, shown in "Earthquake Recovery in Barranquito, Las Lomas and Sol Naciente" (VB #76.6, Peru 2010 part 2). Whether it's rescued dogs, men on stilts, a host family telling its stories, or musicians playing on a rooftop, these shows bring you a slice of life among the ordinary people of Peru.
---
---
20 Year Old Nonprofit Seeks Fast, Usable
Computer for Social Change Video Production
---


We're not quite ready to head to the personal ads, but we'd like you to
think about whether you might have a computer we can use to create
projects and upload them to the internet. A Macintosh with an Intel
processor would do the job best, but a G5 would work as an interim step.
We are able to check equipment out from the local cable access facility,
but with a newer computer we could be churning out more clips
for viewing on line, and getting shows together without waiting
for the limited hours access is open.
---
Speakers, Performers Mark 65 Years After US Atomic Bomb on Japan
In August, the 2010 Hiroshima Day in Portland featured a survivor of Hiroshima, a Buddhist dedicated to ending nuclear weapons, and Oregon State Representative Jules Bailey, who sits on the Hanford clean-up board, each bringing a special perspective on nuclear abolition. Dr. Frances Storrs of Oregon Physicians for Social Responsibility (PSR), which sponsored the annual event, gave a talk about how people can get involved. A performance piece by Chisao Hata and Renault "Polo" Catalani, music from Live Free Odaiko Taiko Drums and rapping by Rocket One (of Universal Zulu Nation) round out the program "65 Years Toward a Nuclear Free World: Hiroshima Day 2010" (VB #76.11&12). Yes, we presented the 2009 Hiroshima Day just a few months ago--but very little of this show is a repeat of what you heard then! For more information visit PSR's website: www.oregonpsr.org.
Loving Mother Earth
Two recent programs cover ways to help our beleaguered environment. In the first, the "Better Living Show" (VB #76.9), Flying Focus videographers visited the 2009 Better Living event at Delta Park and interviewed folks there about programs that work to help the Earth. Tim Kutscha from the Oregon Electric Vehicle Association spoke about electric cars while Kendall Youngblood of the Energy Trust of Oregon discussed how tax credits and incentives make solar panels for homes affordable for many folks. And Dr. Karl Wald extolled the virtues of paper made from elephant poo.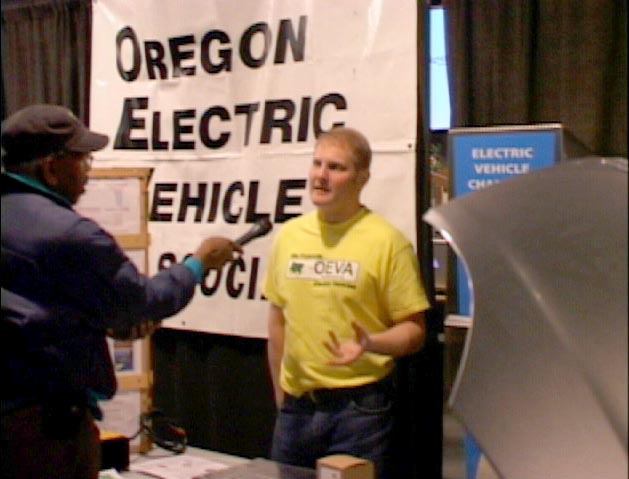 Tim Kutscha of the Oregon Electric Vehicle Association

"In Quest of a Smaller Footprint" (VB #77.2&3) follows a Flying Focus producer who tries to minimize the damage to the Earth caused by her current mode of transportation: an aging and decrepit automobile. In an effort to avoid dumping it in a landfill and replacing it with another gas guzzler, she and the FFVC field crew meet with the Oregon Electric Vehicle Association (part 1) where people who understand these things discuss the intricacies of conversions, insurance, and batteries in electric cars and trucks. They also visit an electric bike store and check out electric powered bikes and even a unicycle (part 2).
Donate, Volunteer to Support Flying Focus
If you don't have hardware to donate, please consider sending us a donation--while money for our ongoing efforts is always welcome (and any amount helps!), a donation specifically for upgrading our equipment can be set aside and not spent on things like the rent and utilities. As you know, we're all-volunteer and a 501-c-3 educational organization, so (a) your money does not go to paying any salaries, and (b) your donation can be tax-deductible, if that's of value to you.

All of our supporters have unique and valuable skills. If you want to patch in by donating time rather than equipment or money, please call us at 503-239-7456 or email ffvc@flyingfocus.org. We'll set you up with a volunteer questionnaire and get you plugged in!

As a bonus... we never have and never will share your information with other organizations. Thanks for all your support!
---