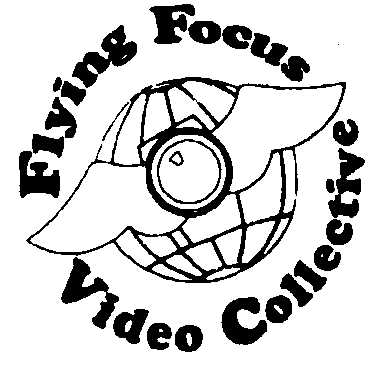 FLYING FOCUS NEWSLETTER
APRIL 1998

---
Eyewitness Video of Iraq Shows Alternative Point of View, Rare Footage
"Iraq, Seven Years Later: Eyewitness Accounts" (VB #26.8&9) is hosted by Dan Handelman, who visited Iraq in November 1997 with Voices in the Wilderness (ViTW) to deliver medicine to hospitals. The program features comments from members of the ViTW delegation, slides, photos, media analysis, clips from a February 3 demonstration in Portland against the threats of bombing, and rare video footage from the inside of a hospital and outside a sewage-ridden housing complex in Basra, Iraq. This footage is a portion of the 10 hours of videotape confiscated from Handelman by U.S. Customs in Detroit on his return to the U.S. The 2 two-and-a-half minute clips featured on this program were salvaged from a copy made before Handelman left Iraq.
Facts and figures about the U.S./U.N. sanctions, which according to UNICEF are responsible for the deaths of 4500 Iraqi children under the age of 5 each month, are presented along with the video clips and stills.
Also check out a companion piece "Turning Back a New Attack Against Iraq" (VB #27.1), which chronicles a 400 person demonstration held February 23 in downtown Portland.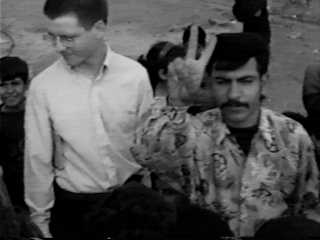 Iraqi man sends a peace sign to Flying Focus viewers in Iraq Seven Years Later
Sixth Busiversary Finds Flying Focus Moving Along
If you have our 1998 catalog and aren't sure what shows to watch, you may consider ordering one of our "Busiversary" compilation shows. The most recent one, the Sixth Busiversary (VB #25.8 & 9), features programs produced from December '96 to November '97 introduced by producers from Flying Focus. Programs listed in the April 1998 catalog insert will probably appear in next year's Busiversary.
New Tape Documents Dramatic Domestic Violence Project
"Witness This" (VB #26.2&3) is street theatre which graphically portrays domestic violence in many of the forms it takes in our community and makes us think about how we can help put an end to it. Written and performed by members of Hip Chicks and Activists, it takes place in the parks, streets and parking lots of North Portland. Eighteen organizations that work on issues of domestic violence in Portland are represented by individuals involved with the production. The play powerfully depicts the cruelties that people inflict on each other, the strength of the human spirit to survive, and inspires us to work for change.
It's a Sign -- Chimps Have Rights Too
Roger and Debbi Fouts have been working with chimpanzees since 1967 when Washoe was first taught to communicate with American Sign Language. They currently work at the Chimpanzee and Human Communication Institute in Ellenburg, Washington, an outdoor sanctuary with space to run and poles to climb. While not as ideal as the jungles they were meant to inhabit, Roger points out that these are chimps raised in captivity who would not survive in the wild. And the sanctuary is a far cry from the fate of most chimps in the "civilized world" who are infected with leukemia, hepatitis or AIDS and live in concrete or stainless steel cells.
In "It's a Sign" (VB # 25.4&5) the Fouts describe and show video of the chimps communicating with people and each other, including a young chimp who was taught to sign by the others. They talk about the similarity of human and chimpanzee DNA and question the ethics of animal experimentation.
Thanks for the Help
You know that all this great work doesn't happen by itself. Because we're an all-volunteer organization, we need your support to continue to function.
So here's a big THANK YOU to all the volunteers who have helped us with videotaping in the studio and in the field, with office work, and with special projects such as mailings. We couldn't do this work without you. And thanks to the people and companies who donated money, services, equipment and tapes.
But ongoing expenses such as tape verification, phone bills, rent, and printing costs mean we need your support. Some non-monetary donations we can use are editing equipment (including a Time Base Corrector), a laser printer for our 486 computer, and office supplies.
Remember, ordering a tape helps with equipment maintenance and small expenses, but straight-up donations can be a big help and a tax deduction for you.
Buy Nothing Day Shows Alternative to Year's Busiest Shopping Day
"Buy Nothing Day" (VB #26.10&11) documents a protest/action organized by students at the International Learning Program, an alternative school in Portland, on November 28th, 1997, the day after Thanksgiving. The action's goal was to bring attention to North America's consumer based culture's effect upon the earth's environment and the gross oppression of working people of all lands by the corporate ruling classes.
The video follows the action from its beginning in Pioneer Square to its dissolution with the arrest of an activist, with stops at Nike Town and other major merchants that sell goods produced by sweat shop labor. It features a variety of interviews and speakers that were involved in both the organizational, speaking and street action aspects of the day.
Interviews include representatives of Justice, Do It Nike!, Portland Copwatch and the International Learning Program. Also included are three anti-commercials produced by the Media Foundation, one of the national organizers of the day's events.
New Lending Library?
As we prepare this newsletter, the Liberation Collective (LC) has agreed to host the video tape lending library formerly housed at 223 Freedom and Mutual Aid Center. This is convenient since the LC office is right next door to the now-defunct 223. You can find them at 2 NW 3rd Ave downtown, sharing a space with other progressive organizations. To find out more about the Liberation Collective please call 525-4975.
Meanwhile, we'd like to remind you that if you order a tape (or heck, order four of the same one!) you can sponsor its introduction into any (or all) of our lending libraries including LC, Oregon Peace Institute Resource Center, Underground Video, and Laughing Horse Books.
Our Audience Grows Nationally
More and more access producers and activists from around the country have been requesting programs from Flying Focus to put on their local channels, for public screenings, and academic use. Recently, we have filled orders for Community 21 in Columbus, Ohio; Friends of the Third World in Fort Wayne, Indiana; the LIP Collective, who held a film and video festival in Chicago, Illinois; the Sociology Department at Greensboro College in North Carolina; the Literary and Language Arts program at Yosemite Community College in Modesto, California, and have received notice that Free Speech TV (Boulder, CO) wants to distribute our "Iraq, Seven Years Later" program to their national network.
Cable Access Network at Risk
Portland Cable Access (PCA), where we produce most of our programs, is considering making sweeping changes to Channel 11, the city-wide Cable Access Network. Members of the PCA board are making proposals to limit which programs will go out to the entire Portland area. In general, PCA needs to be told that censorship is unacceptable. Specifically, we have been asked to provide comments on our programs. Whether you live in or outside our viewing area, if you have found anything noteworthy about any FFVC produced show please call, write or e-mail us and we'll pass it on to PCA. Your remarks could be the ones that determine whether or not this uncensored media stays or goes.
Immigrants' Rights Highlighted
At a forum held by the Worker's Organizing Committee (Nov. 5th, 1997, St. Andrew's Community Center N.E. Portland) civilians discussed abuses of power, law and human rights by the I.N.S. and the Portland Police Bureau.
Featured speakers on "INS Forum," (VB #25.12&113) include members of the Workers Organizing Committee, the migrant farmworkers' union PCUN, and the Oregon State Legislature. These individuals gave first hand testimony of the harassment they've experienced and the violation of their rights by the I.N.S. and other law enforcement organizations under the jurisdiction of the I.N.S.
Showtimes:
Watch the Flying Focus Video Bus weekly:
Paragon - Mon. 8 PM, Ch. 27 & Wed. 11PM, Ch. 33
City Wide - Fridays, 9:30 PM, Ch. 11
Also catch Free Speech TV -- From Boulder, CO. Four hours of progressive programming on TVCA channels 59/53:Block 1: Mon. 4-6 pm , Tue. 10 am-Noon, Fri. 10-Midnt, Sat. 6-8 pm
Block 2: Wed 2-4 am, Wed 8-10 pm, Thur 2-4 pm, Sun 4-6 pm
[Back to Newsletter index page]
[About Donations for Tapes] [FFVC Home Page]