Flying Focus October 1996 Newsletter
Here's our latest (10/96) newsletter. If you'd like to be on our 'snail' mailing list, or would like a copy of the 1996 catalog, feel free to contact us
October 1996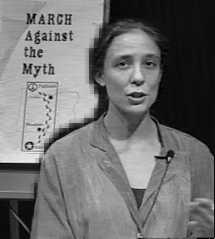 Covering the "March Against the Myth": Death Penalty Abolition Action
In September, the Oregon Coalition to Abolish the Death Penalty organized a four-day march from Portland to Salem titled "March Against the Myth." Flying Focus covered the issue prior to the event ("Capital Punishment: The Death Penalty in Oregon" VB #20.9, VB#20.10). Then, Collective members videotaped different parts of the march, including the vigil outside the penitentiary during Oregon's first execution in 34 years. Watch for a documentary-style compilation of footage coming soon -- and contact us if you want to get involved!
Wish List
Thanks to all the people who donated to the Flying Focus / Portland Alliance / Peaceworks rummage sale in September. Because of your support Flying Focus managed to raise almost $300! Of course we also like to remind people that monetary donations are equally gratefully accepted, and they can be tax-deductible.
Also, we REALLY, REALLY need your VHS tapes! If you have bought any tapes you don't need, or have some you recorded on that you don't really want any more, please consider donating them to Flying Focus! Thanks, once again.
Five Year Busiversary
1996 has marked a lot of 5 year marks for us: our inception (January), incorporation (August) and, coming up November 18, five years of our weekly show, the Flying Focus Video Bus!
To celebrate this historical time, we will present our annual retrospective, the Busiversary, on Nov. 18 and 25 on the Video Bus, but we are also looking for a marathon block of 4.5 hours to show ALL FIVE Busiversary compilation programs. This will be a unique opportunity to watch how our work has evolved over the years. We think we will find a public gathering spot to watch the programs as they are cablecast--we'll let you know when we have more details.
The five years since our inception also means that the IRS makes its final determination this year as to our tax-exempt status as an educational organization. Thanks to all of you, we know we meet the requirement that we receive more than one-third of our support from the general public-so we expect our status will be made permanent in October.
Unconventional Convention Coverage
Want to see behind the scenes at the presidential conventions?
After the first Media & Democracy Congress this February, some of the attendees decided they wanted to organize their own coverage of the Republican Convention in San Diego, and the Democratic Convention in Chicago. After months of organizing, and several quick weeks of videoactivity, the LA Alternative Media Network and CounterMedia have compiled two shows covering the conventions from angles ignored by corporate news.
Even more exciting, Deep Dish Television has managed to distribute the tape to video activists throughout the country, and now Flying Focus will be showing this two hour documentary/news program on Thursday October 24th at Fifth Avenue Cinemas. Admission is $4, $3 for students and the show starts at 7pm. This is an excellent chance to educate yourself about the political process (from the inside and out) before you vote. Don't miss it!
Lending Library Update
More news about Lending Library: First, we are proud to say that the 23 planned programs for distribution are now available at Laughing Horse Books and Oregon Peace Institute. At least nine of the programs are also available at Underground Video and 223 Freedom and Mutual Aid Center.
We also need to let you know that Oregon Peace Institute has moved from NW 23rd to the fourth floor of Neuberger Hall at Portland State University, and their correct phone number is 228-7422.
Cuban Filmmaker to Visit Portland
Flying Focus is one of several groups to host the visit of Afro-Cuban filmmaker Gloria Rolando, who will be in Portland October 30 and 31. Ms. Rolando will show two of her films, "Oggun" and "My Footsteps in Baragua" dealing with themes of Santeria religion, a specially Cuban blend of African and European religious traditions. The films will play at the Northwest Film Studies Center Wednesday October 30 at 7:30.
Sponsoring groups will hold a reception for Ms. Rolando prior to the film at 5:30 at PSU Campus Christian Ministry, SW Broadway and Montgomery. Call us for more information.
Report from Iraq
This speech by Portland area resident Mohamad Zuhairy about a March 1996 trip to his native Iraq has received several positive (and a few negative) reactions from the general public. As organized by Portland Peaceworks' Iraq Affinity Group, "Report from Iraq" (SE #85) features Mohamad's daughter Faye, who accompanied him, and a question and answer period.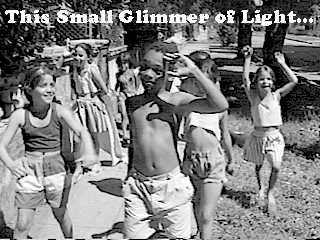 New Cuba Series
In June 1996, Cuba's Institute for Friendship among the Peoples hosted the United States National Network on Cuba for a three-day conference to discuss Cuba's response to the draconian legislation by Senator Jesse Helms and Rep. Dan Burton.
Elizabeth Atly of Flying Focus accompanied the group and videotaped 12 hours of presentations. She has turned this into a 7-part series of one hour programs which played during the recent quarter of programming at PCA. Entitled "This Small Glimmer of Light in the Storm: U.S. /Cuba relations 1996," the programs are available for $12 each, $18 for any two, or $60 for all seven programs. Take a look at the catalog insert for details. (Series CUB1.0-1.7)
Nike is not a Good Neighbor
As the headquarters for NIKE athletic shoes and equipment, Portland has come under the international spotlight in recent months. Yet there are voices on the subject that won't necessarily be heard through mainstream media, which is why you want to stay tuned to Flying Focus!!
Amy Goodman, intrepid reporter for Pacifica News, visited Portland in April 1996. She gave two presentations at Portland State U., and Flying Focus taped both. The first, covering her experiences with community radio and relating confrontations with Sally Jesse Raphael and Newt Gingrich is available as Pacifica's Amy Goodman Deconstructs Mainstream Media (VB#19.9, #19.10).
The second is a stunning account of her presence at the infamous cemetery massacre in East Timor, and her subsequent struggle to tell the world of its occurrence. Goodman's story places a context for protesting the abuse of third world workers by NIKE and other "maquiladora" industries, and will be available in October.
Highlighting the NIKE protest, however is the visit of Cicih Sukasei of Indonesia, brought to Portland by Medea Benjamin of Global Exchange, to meet with CEO Phil Knight. Did Mr. Knight agree to meet with Cicih? Take a look at this dramatic video, which may also appear in part in a forthcoming video from Global Exchange. (VB #20.8)
Public Exposures
Flying Focus Video Collective's monthly screening series at Laughing Horse Book Store came to a close for the season in August. From March to August we presented screenings of FFVC videos and coordinated with groups such as Oregon Community for War Tax Resistance, Portland Peaceworker, East Timor Action Network, and Chiapas Urgent Call to facilitate both public access to voices otherwise unvoiced and to facilitate public participation in continued actions and discussions on socially pertinent issues, especially those who don't have cable at home.
FFVC thanks these groups and Laughing Horse for making this series possible. FFVC is also looking for additional volunteers to facilitate another season of public screenings. Please contact Hyung Nam or Barb Greene @321-5051. We look forward to being able to continue our series and will announce in a future newsletter about the details, when we have additional coordinators. Thanks.
SHOWTIMES:
Watch the Flying Focus Video Bus weekly:
Mondays, 8 PM, Ch 27 Paragon
Wednesdays, 11 PM, Ch. 33 Paragon
Fridays, 9:30 PM, Ch. 11 Citywide.
Also check out Free Speech TV -- From Boulder, CO, four hours of progressive programming for your viewing pleasure.
Two two-hour blocks will be shown on TVCA channels 59/53:
Block 1: Mondays, 4 PM; Tuesdays, 10 AM; Fridays, 10 PM; Saturdays, 6:30 PM
Block 2: Thursdays, 12:00 AM (Midnight) and 6:00 PM; Fridays, 12:00 PM (noon).
[Back to Newsletter index page]