Flying Focus Video Collective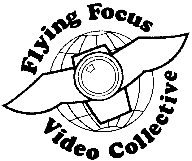 www.flyingfocus.org
---
---
Watch the Flying Focus Video Bus every Friday, 9:30 PM, Ch. 11 Comcast Portland

The Flying Focus Video Collective, a tax-exempt 501(c)(3)educational organization, has been producing works since January, 1991.
Over 700 programs dealing with public policy issues have been cablecast and shown at occasional public screenings. The succinct version of our mission statement:
Activists using video as a tool for social change, voicing the voiceless .


FFVC enters the 21st Century!
In August, we launched an on-line Computer Campaign to raise $2000 toward purchasing a refurbished Macintosh Intel tower. We are so grateful to the people who responded, donating a respectable $875 toward that goal. In early January, we used these funds to purchase the Mac Pro Tower we sought! We still need a bit more money to pay for peripherals such as hard drives, connectors, etc. to integrate the computer into our existing system. We are continuing to accept donations by mail or on line .
---
*Q: How can I get a printed copy of the Flying Focus catalog?
A: Send $3.00 check or money order to our address, below, and note you want a catalog of available videos.
(More titles appear on the website than the printed catalog due to space considerations.)
**Q: Why can't I order DVDs/tapes directly from this website?
A: The donation site we have chosen to use for our organization, Network for Good, does not allow donations
for when you receive something of value in return for your donation.
So please use a check or money order and the good ol' US Postal Service, and ask us for more information
about the value of the DVDs/tapes and your accountant about what is tax deductible.
Back to top
---

•

•

•

•

•

•

•

---
The Flying Focus Video Collective
3439 NE Sandy Blvd, PMB#248
Portland, OR 97232
(503) 321-5051 Voicemail
(503) 239-7456 Office
ffvc@flyingfocus.org
http://www.flyingfocus.org
Page last updated 5/15/13
---