---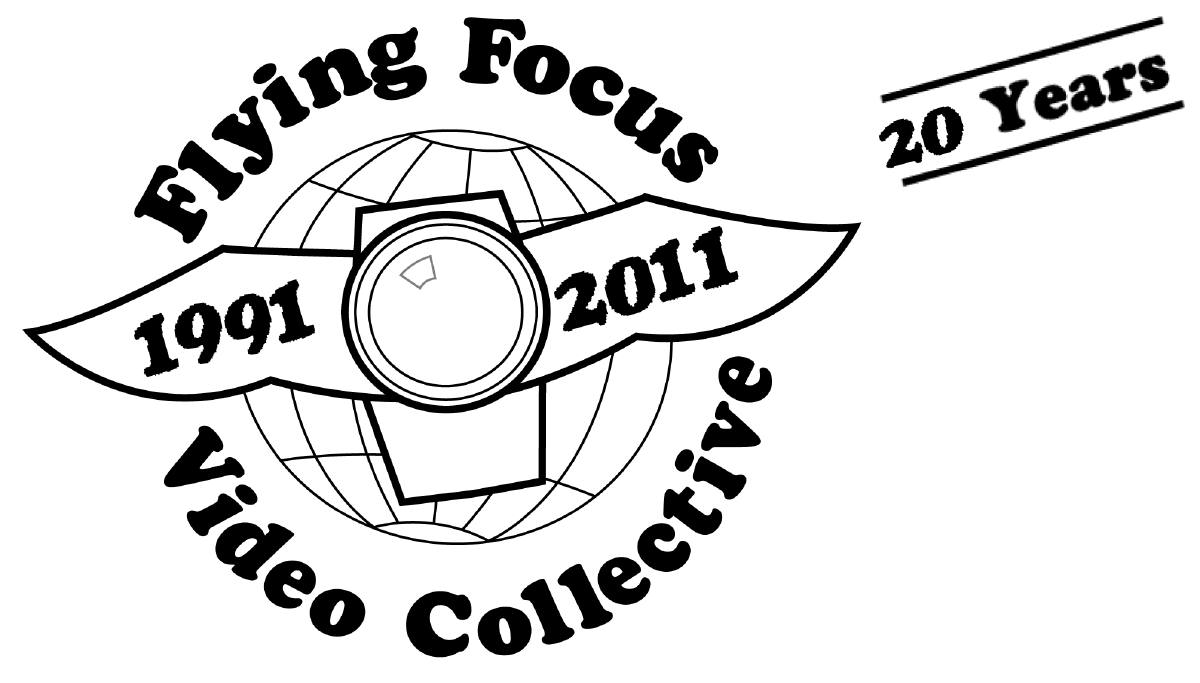 ---
Flying Focus Video Collective
August 2011 Newsletter
PMB 248 • 3439 NE Sandy Bv • Portland, OR 97232
(503) 239-7456 • (503) 321-5051 • ffvc@flyingfocus.org
---
A Congressman and a Doctor Offer Solutions to Health Care Crisis
In late January, Portland area groups organized a conference to examine alternatives to the health care system which leaves so many in America uninsured. Two of the speakers at that conference appeared on recent Flying Focus programs produced by new volunteer Mike Brown and taped by PC Peri.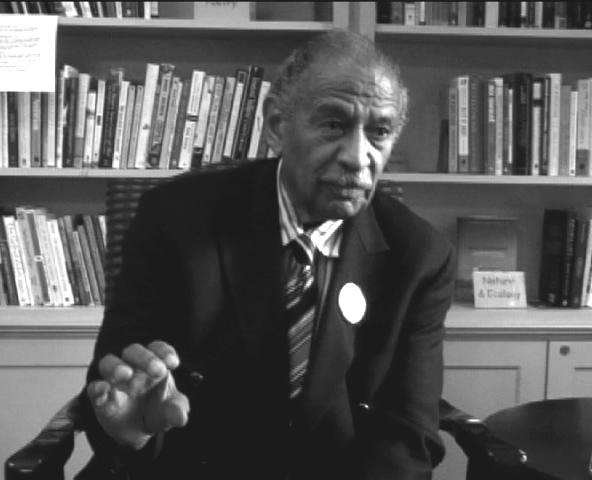 The first showcases national advocate Dr. Margaret Flowers as she shares statistical and historic information in a power-point slide show ("Dr. Margaret Flowers: Health Care For All"--VB #79.11). Flowers focuses on the problems created by for-profit corporations managing health care, explaining the benefits of and offering examples of single payer options such as one being put in place in Vermont.
--Clip--
The second features an interview with one of America's most outspoken Congresspeople. "Rep. John Conyers: Single Payer Health Care" (VB #80.4) includes an interview with the longterm Michigan representative that covers topics such as how President Obama approached the Health Care issue, how the country has--and hasn't--changed since the days of the Civil Rights Movement, and differences of opinions between Democrats and Republicans.
--Clip--
Rep. John Conyers of Michigan
Pro-Union Teachers Are "Not Waiting for Superman"
Stan Karp, editor of Rethinking Schools Magazine and part of New Jersey's Education Law Center, spoke at Portland's Jefferson High School in February 2011, focusing on the attacks on public education and teachers' unions. One highly visible attack was the widely seen documentary "Waiting for Superman," which showed publicly funded, non-union charter schools as a solution to the crisis in our nation's education system.
Karp's talk was featured on the Flying Focus Video Bus show "Not Waiting for Superman" (VB #78.8&9). Karp outlined many alternatives to the film's ideas, also rebutting concepts like the gathering of video data and experiments in using computers to replace human teachers. He points out that the original idea for charter schools came from union teachers unhappy with the cookie-cutter system they were forced to be part of. Karp coordinates http://www.notwaitingforsuperman.org.
Also featured is Rebecca Levison, president of the Portland Association of Teachers, who encourages the local members to fight for their rights, and brief snippets of the conversations among the audience.
--Clip--
Help Flying Focus Celebrate 20 Years! Donate, Volunteer, Spread the Word
Flying Focus formally started in July, 1991, making this summer our 20th anniversary! This fall, we will put on a public celebration event, featuring video and members of the Collective. If you are interested in helping work on the event-- or anything else we do-- please let us know. In addition, we're re-playing some of our older programs on cable access to celebrate. This has been made easier now that we're 92% finished with our Digital Archiving Project (DAP), an effort we began three years ago with a Community Access Capital Grant from Mt. Hood Cable Regulatory Commission. Because of the rising costs of digital video tape, we went slightly over our predicted budget for the DAP. Donations to the DAP fund will help us finish the last few tapes as well as to purchase tapes for archiving our new programs.

Other ways to support Flying Focus include donations of money or goods. We continue to seek an Intel-based Macintosh -- of any speed -- to replace our outdated "Power PC" which can no longer effectively upload or play the videos we put on the internet. If you have such a computer that you can donate, or can send money earmarked for us to buy one, that will help us post and view videos, plus we would be able to edit shows as well. See our updated website at http://www.flyingfocus.org for our detailed wish list.

We also hope you will order copies of the shows featured in the current catalog insert, or our full catalog, which you can download from our website. If you are interested and technically capable, we've been offering digital streaming rights to our programs for $75 for individuals/small nonprofits, or $125 for larger institutions. It's 2011 -- a long way from Porta-paks with 3/4" video tape and tethered separate cameras -- so the technology has changed, but the importance of the information is as urgent as always.
ROP's Roots and Wings Celebration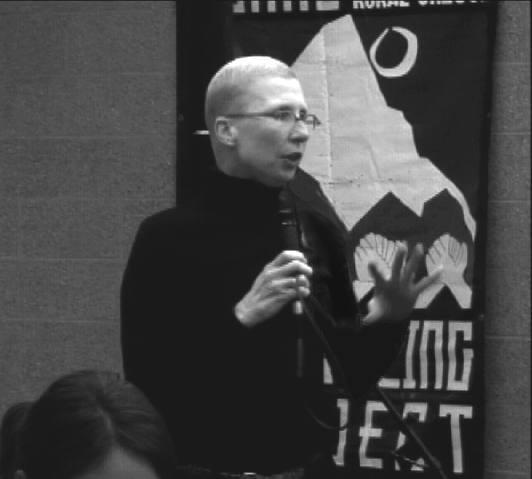 The Rural Organizing Project (ROP) is a statewide organization of locally-based groups that work to create communities which believe in the equal worth of all people and provide equal access to justice. On December 4, 2010, the ROP community gathered in Portland to celebrate 18 years of organizing and to develop strategies for promoting progressive agendas. In "Organizing on the Left" (VB #79.13&80.1), national and local leaders who spoke at the event are featured. Suzanne Pharr spoke about the current state of politics and the rise of the political "right." Eric Ward talked about the success of the Minutemen on the southern US border and other antiimmigration groups. Tarso Ramos reviewed Reaganomics, the Tea Party, and the need to redefine who is American and needs protection. Scot Nakagawa discussed the importance of race and the need to end white privilege. Cara Shufelt, the current Director of ROP and Marcy Westerling, its founder, presented local issues. All of these inspiring speakers contributed ideas for how the left can become better organized and create communities that work for everyone.
--Clip--
Marcy Westerling of Rural Organizing Project
Eight Years After Iraq Invasion, a March For Economic Justice, Against War
On March 19, dozens of organizations held a rally and march protesting the US occupation of Iraq. If you weren't one of the 1700 or more people at that event, you can watch the speakers, musicians, marchers and chanters in "Iraq 8 Years Later: How is the War Economy Working for You?" (VB #79.7&8). Speakers addressed key issues: Wray Harris, president of Iraq Veterans Against the War-Oregon gave an impassioned speech about getting out of Iraq, Afghanistan and Pakistan. Barbara Dudley of the Working Families Party drew connections between the economic crisis and America's ongoing military misadventures. Francisco Lopez, director of CAUSA, looked at issues deepening in this country including attacks on civil liberties and immigrant rights.
The crowd chanted and enjoyed music from the No War Drum Corps, General Strike and the Vancouver Ave. Baptist Church Choir.
--Clip--
Media Distortions & the Black Panthers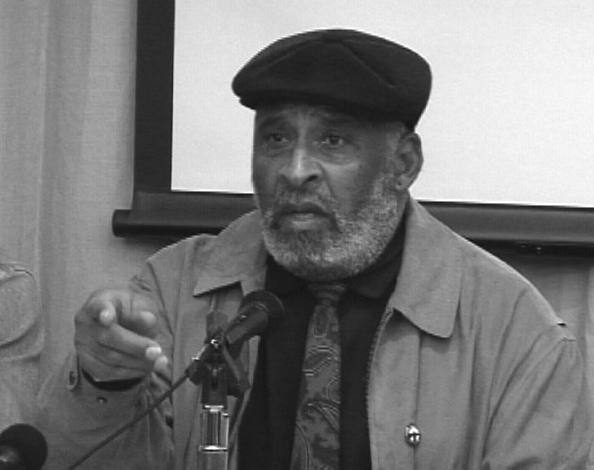 Two recent Flying Focus programs look at the history of the Black Panther Party (BPP).
On March 18, 2010, Jules Boykoff, Associate Professor of Political Science at Pacific University, and Martha Gies, author of "Up All Night," gave a presentation at the Northwest History Network's general meeting. "Portland Black Panthers and the Media" (VB #78.12&13) covers their presentation describing how in the 1960s local media exaggerated accounts of violence by the Panthers, attributed crimes to them that were committed by others, and ignored their dedication to social and economic justice and Black empowerment. Kent Ford and Percy Hampton, original members of the Black Panther Party, also gave moving personal accounts of their programs and struggle to help the Black community in the Ś60s. Nurses who volunteered at the People's Health Clinic in Portland over 40 years ago were recognized at the meeting.
--Clip--

Former Panther Kent Ford

On May 15, 2010, former BPP leader David Hilliard gave an insider view of the history of the group. In "David Hilliard and the Black Panthers" (VB #79.3&4), he talks about the Panthersą invitations to China, meetings with heads of state, working with the Mexican and Jewish American communities, offering free food and health care to all oppressed peoples, starting ethnic studies programs at universities, and supporting women's rights. Hilliard describes the repression by J. Edgar Hoover and the FBI which led to the demise of the Panthers. This is a fascinating first-hand account by Hilliard of a pivotal time in US history, linking the struggles then with those of today. Hilliard is the author of "This Side of Glory" and "The Black Panther Party: Service to the People Programs."
--Clip--
Political Prisoner's Nobel Peace Prize Contextualized
In October 2010, the Nobel Committee announced that Chinese activist Liu Xiaobo, serving an eleven-year sentence in prison for his activism on behalf of human rights in China, would receive the Nobel Peace Prize. Liu, who has served several jail terms for his writings, came to prominence during the Tiananmen Square crisis of 1989, and was a contributor to Charter 08, a petition addressing democratic reform signed by several hundred Chinese intellectuals.

The Chinese government responded to the prize by pressuring other countries to not send representatives to the award ceremony, preventing Liu's family from attending, and blocking internet coverage of the award.

In "Liu Xiaobo and the Nobel Peace Prize" (VB #78.6), taped weeks before the ceremony, Professor Bruce Gilley spoke at Portland State University to discuss the significance of the Nobel being given to Liu. He notes that Liu represents a significant new movement within China calling for freedom of expression and political openness, and argues that US policy must consider how to avoid damaging prospects for reform.
--Clip--
---
---