---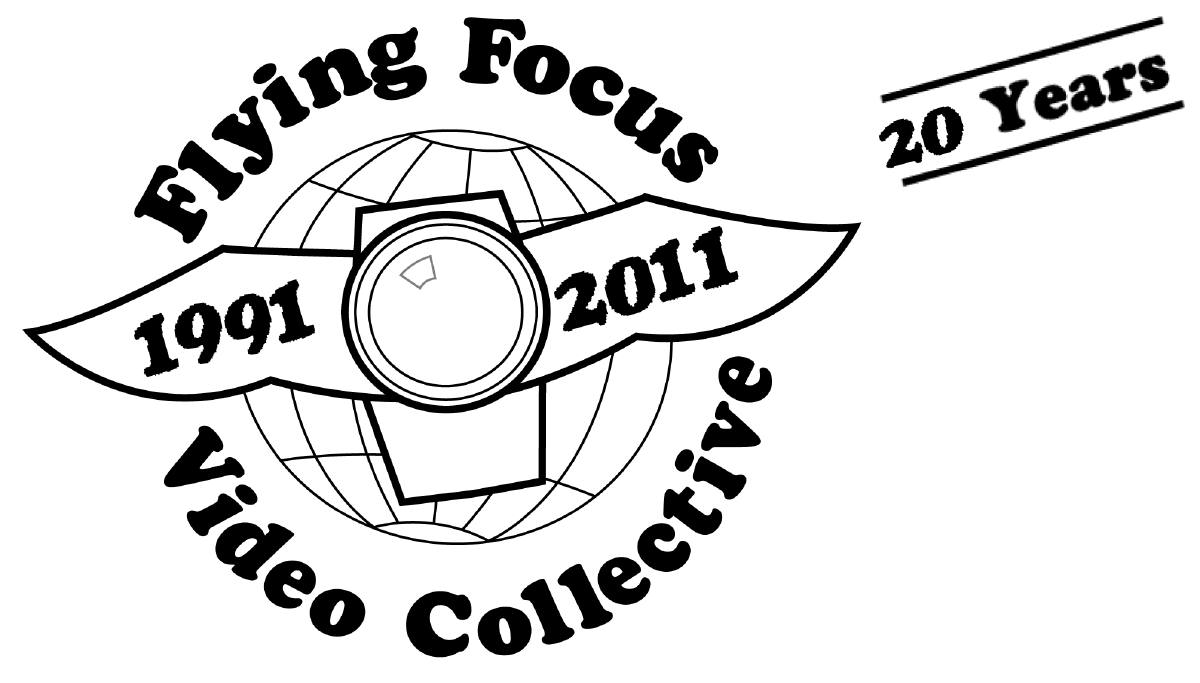 ---
Flying Focus Video Collective
February 2012 Newsletter
PMB 248 • 3439 NE Sandy Bv • Portland, OR 97232
(503) 239-7456 • (503) 321-5051 • ffvc@flyingfocus.org
---
Flying Focus celebrates 20 years of video on TV and at the Red and Black Cafe
This November, Flying Focus marked our twentieth anniversary creating social justice videos with our newest annual retrospective program, the "Twentieth Busiversary" (VB #81.7&8) and a public event at the Red and Black Cafe in SE Portland.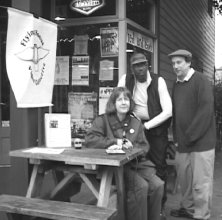 The video features an eight-minute look back at Flying Focus' first 20 years, using audio from an interview on KBOO's "Behind the Screen," followed by 2 minute clips from our 14 most recent programs (Nov. 2010-Oct. 2011) introduced by the shows' producers.

8-minute retrospective clip
Topics include the history of the Black Panthers, Portland gentrification talks, America's education system, universal health care, organizing against right-wing ideology, and US foreign policy. All of the clips are up on the web at http://www.flyingfocus.org/videoclips.html. The Video Bus has been running weekly since it premiered November 18, 1991.
Founding members Dan Handelman and PC Peri served as hosts at the Red and Black's public screening on November 17, introducing the clips and answering questions from the crowd.
We got good feedback and shared stories of the old days. Flying Focus was able to raise a little money, with one supporter's organization donating 100 blank DVDs! Other information on the anniversary celebration, including a promotional video, is at http://www.flyingfocus.org/20years.html.
We also landed a story in the Skanner's November 23rd online issue: http://www.TheSkanner.com/article/Video-Collective- Celebrates-20-Years-of-Documenting-Progressive-Community-2011-11-23.
In the 11 weeks leading up to the 20th Busiversary, we showed Busiversaries #1-19 on Portland Community Media in back-to-back late nights and on our weekly show. All of the Busiversaries are available on DVD.
Hazards of Cell Phones
Talal Jabari, journalist and filmmaker, started investigating the effects of cell phones a few years ago when his daughter was born. He wanted to know if his neighbor's cell phone antenna was safe. He ended up producing "Full Signal," a multi-award winning documentary about the issue. In "Cell Phones: What Can They Hurt?" (VB #80.6), he talks about the making of the film and the dangers of cell phone technology that he discovered along the way. For example, he notes that cell phone radiation can be disruptive to human DNA. Ready to hang up yet?

--Clip--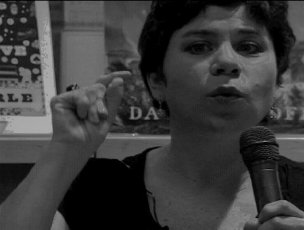 Gulf Oil Spill Revisited
Antonia Juhasz, author of Black Tide, has been looking into the oil industry for a long time. In "Oil Spill Update" (VB #81.3&4), she spoke at Powell's Books about what she found while writing the book: the huge profits still being made by the oil industry, the lack of safeguards or regulations for worker safety and the environment, the lack of accountability by oil corporations and the collusion of the US government. This program is a wakeup call for anyone who may think that everything is okay because the public has not been allowed to see images of tar-soaked birds from the Gulf.

--Clip--
Antonia Juhasz at Powell's Books in April, 2011
Don't Say Cheese
The American dairy industry and the medical establishment would have us believe that milk and cheese are an important part of a healthy diet for growing children and strong bones. Amy Joy Lanou, senior nutrition scientist for Physicians Committee for Responsible Medicine, told the audience at Portland's 2011 Veg Fest that she thinks otherwise. In VB #82.2&3, "Is Dairy Healthy?", Lanou, also the author of Building Bone Vitality, explains how research is showing that dairy products are not necessary and in fact may actually be hazardous to your health.
For Peace in Afghanistan & Against Nuclear Weapons
Kathy Kelly, a Nobel Peace Prize nominee for her work to challenge US sanctions on Iraq, visited Portland in August. She was featured on two recent Flying Focus programs.

The first contains an August 5th talk about the impact of the US war and occupation of Afghanistan. "Kathy Kelly: War and Peace in Afghanistan" (VB #80.12&13) includes vivid verbal portraits of the families she met, and the conditions they live under including injuries from US/NATO missiles and bombs. Kelly also spoke of the US' regional aspirations, the goal of an oil pipeline, and the insidiousness of drone warfare.

Kelly illustrated her talk with videos of Afghan Youth Peace Volunteers and Afghan Veterans for Peace from the US. Kelly, co-coordinator of Voices for Creative Nonviolence (http://www.vcnv.org), helps inspire people to get involved and make a difference, no matter what their level of commitment.

--Clip--
Ms. Kelly also spoke at the 2011 Hiroshima/Nagasaki commemoration, held August 7 at the Japanese-American Historical Plaza. We produced a program featuring much of the information, music and poetry from the event ("How Can We Create a Nuclear Free World?: Hiroshima Day 2011," VB #81.11&12). The event's subtitle, "Not Another Hiroshima, Nagasaki, or Fukushima," served as a framework for speakers to focus on nuclear weapons, nuclear power, and peace.
Part one features drumming by Portland Taiko; Gene Ruyle of Oakland's Veterans for Peace; the Himawari (Sunflower) Chorus; a poem written after the Fukushima disaster; and a powerful talk from Dr. Hideko Tamura Snider, Hiroshima survivor, who pleads with the audience to end nuclear madness.
Part two features Kathy Kelly, as well as Sean Egusa, whose family history includes internment in the US and military service in Japan, speaking about disaster relief efforts after the earthquake that rocked Fukushima. Also on part two are Erica Maranowski, a recent high school graduate, reading her awardwinning essay and Asian-American rockers The Slants.
Oregon Physicians for Social Responsibility (PSR) again cocoordinated the event, which lasted three hours and included a community fair. These two half-hour shows condense a lot of information into a relatively short time.
Dr. Hideko Tamura Snider, Hiroshima survivor
Alternatives to Psychiatric Drugs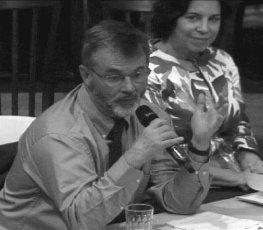 A two-day symposium was held in Portland in May, 2011 to explore the changing face of psychiatry in light of research on the effects of medications as outlined in Anatomy of an Epidemic by noted author and journalist, Robert Whitaker. In "Rethinking Psychiatry" (VB #80.8&9), Whitaker facilitates an audience and panel discussion on the current national movement to create a mental health care system that is safer, and more holistic, effective and humane.
The panel included mental health service users, a youth advocate, and family members, as well as the President of the Oregon Psychiatric Association and the Chief Operating Officer of Cascadia Behavioral Health. Topics covered included: Are psychiatric medications helping? Are they harming? Are we creating an epidemic of bipolar disorder similar to the superbugs caused by overuse of antibiotics? How do we create healthy societies? How do we repair a fragmented system with major funding issues? A fascinating discussion sure to be of interest to anyone involved in or curious about our mental health system.

--Clip--
Robert Whitaker and Terry Danielson on the Rethinking Psychiatry panel
Support the Past, Present & Future of Flying Focus!
In addition to celebrating 20 years of video as a tool for social change, Flying Focus has been issued a certificate of completion from the Mt. Hood Cable Regulatory Commission for our Digital Archiving Project-- we've archived over 95% of our programs from 1991-2008 onto digital tape. We still produce the Flying Focus Video Bus weekly, now in its 21st year.

Since 2008, we've been recording the new shows to digital (DVCAM) format, which requires us to buy seven tapes a year at $25 each - we need to raise $175 a year to create digital archives of our new programs. In addition, we need support for our other ongoing work, and are still hoping to build up enough to buy an Intel-based Macintosh (or have one donated).

If you prefer to donate online, click on "Donate" at http://www.flyingfocus.org. Two things to note: 1) due to the restrictions of Network for Good, orders for DVDs still need to be done via check or money order; and 2) because we now have a DVD duplicator on permanent loan from one of our members, we have decided to change our suggested donations for DVDs/VHS tapes: 1/2 hour shows will be $8 (down from $11), 1 hour shows $11 (down from $14), and longer shows $14 (down from $17). That's $3 less than the old prices in place since 2007.

Please consider sending a donation of any size by check, money order, or online; see our wish list for other ideas: http://www.flyingfocus.org/wishlist.html.

Thank you as always for your support!
---
---