---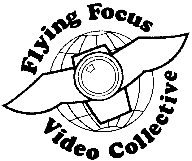 ---
Flying Focus Video Collective
February 2013 Newsletter
PMB 248 • 3439 NE Sandy Bv • Portland, OR 97232
(503) 239-7456 • (503) 321-5051 • ffvc@flyingfocus.org
---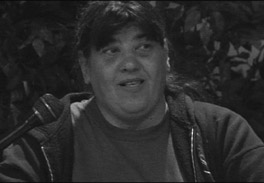 Women Surviving Homelessness
"Women Surviving Homelessness" (VB #84.12&13) covers the moving book release event for "No Room of Her Own: Women's Stories of Homelessness, Life, Death and Resistance." Speakers include the book's author, Desiree Hellegers, associate professor of English and a founding co-director of the Center for Social and Environmental Justice at Washington State University Vancouver, and six narrator-activists whose stories are featured in the book.

The narrators Arnette Adams, Anitra Freeman, Debra Martinson, Jessie Pedro and Delores Loann Winston, all formerly homeless, are involved in various efforts for social change in Seattle. For example, Seattle's Women in Black has stood vigil for more than four hundred people who have died homeless in one of the most "livable" cities in the United States. The women read from the book at the April, 2012 event held at the St. Francis Dining Hall in Portland, coordinated by the Center for Social and Environmental Justice.

In reviewing the book, David Barsamian, Founder and Director of Alternative Radio, wrote: "Heartbreaking and inspiring stories of courageous women enduring and triumphing over adversity few of us can imagine. No Room of Her Own breaks the silence surrounding the national disgrace of homelessness. These women must be heard." Streaming
Pakistan Peace Caravan Report: The Knowns of Drones
In October, Code Pink organized a trip of about 30 Americans to visit Waziristan, the area of NW Pakistan which has been under bombardment by U.S. "unmanned aerial vehicles" since 2004. Three Portlanders and a woman from Corvallis were part of the delegation, and their report is captured in "Oregonians Expose U.S. Drone Strikes in Pakistan" (VB #86.2&3). Using slides and sharp analysis, the four describe a deadly program that is no secret, even though the U.S. government likes to pretend it is. They tell stories of people who lost loved ones to drone strikes, and of the Pakistani activists who tried marching into Waziristan but were turned back along with the Code Pink delegation.

The bulk of the presentation comes from Trudy Cooper of Portland, who notes that the number of dead just since President Obama took over the program from President Bush may be as high as 3000. Leah Bolger of Corvallis, the national president of Veterans for Peace, outlines international laws that are violated when America sends drones into another country's sovereign airspace - killing people on the President's "kill list" as well as ordinary civilians. Michael Gaskill talks about the people they met both in Islamabad and in the more remote areas, who were fascinated by the "crazy Americans" who came to stand in solidarity. And Linda Wenning contributes her observations to support the others' testimony.

This is a topic that needs more exposure. In 2010, President Obama made a casual joke about bombing the Jonas Brothers with a Predator Drone if they made advances on his daughters. If you want to learn more about what is really going on at the other end of the US drone program, whose operators use joysticks and video game-like controls in airbases in the US to fly the planes, you should watch this program.

--Clip--
Whose Streets? It Depends Who You Ask
On April 24, the Civil Rights Section of the Oregon State Bar presented a panel discussion about Americans' rights to be out on the streets and how police sometimes act to curtail those rights in the name of public order and safety. "Our Streets: The Police, The Public & The Law" (VB #84.8&9) features panelists Ashlee Albies of the National Lawyers Guild, Monica Goracke of the Oregon Law Center, Dr. Leroy Haynes, Jr. of the Albina Ministerial Alliance, Adrian Lee Brown of the US Department of Justice (DOJ), and Portland Police Chief Mike Reese.

Albies spoke about constitutional rights to protest and limits that have been put on those rights. Goracke talked about case law and other struggles of the rights for homeless people. Haynes gave an overview of the Civil Rights movement and the use of civil disobedience as a tactic. Brown gave a broad idea of what the DOJ's investigation into Portland's Police Bureau means. Our show includes a few words from Chief Reese and Deputy City Attorney David Woboril to allow their views to be heard, not because it was necessary to push the Occupy Portland movement out of two parks downtown in 2011 as Reese asserts.
---
You may never know what results come of your actions,
but if you do nothing, there will be no results.
- Mahatma Gandhi
---
Justice for Trans People of Color
On June 12, 2012, Kylar Broadus made history by becoming the first openly transgender person to testify before the U.S. Senate. He spoke on behalf of the Employment Non- Discrimination Act (ENDA), which would prohibit employment discrimination on the basis of sexual orientation and gender identity.

In October, Broadus gave the keynote address at the Trans Justice Summit in Portland about his experiences as an attorney, law professor, and trans person of color. He discussed all the work that led to ENDA being studied by the Senate with input from trans people and talked about the Trans People of Color Coalition which he founded. His talk is featured in "Kylar Broadus: Justice for Trans People of Color" (VB #85.11&12).
Flying Focus Comes to Maturity: 21 Years of the Video Bus
Civil liberties, gentrification, women surviving homelessness, food health and mental health, and foreign affairs took front and center on this year's "Busiversary," Flying Focus' annual retrospective sharing clips from the past year of the Flying Focus Video Bus. Looking back at excerpts from 12 new shows (made up of 24 half-hour episodes), our volunteer producers came out from behind the cameras to explain why they feel the information in these shows is so important. The "Twenty- First Busiversary" (VB #85.7&8) played in mid-November marking exactly 21 years from the Video Bus' premiere in 1991.

The Busiversary was compiled by Flying Focus founding member Dan Handelman, with clips from Dan, Barb Greene and Mike Brown. PC Peri, our field footage coordinator (and also a founding member), talks about the nine shows he taped or helped tape for the group. The studio introductions were once again directed by longtime FFVC member Moss Drake. Videographer Jim Lockhart appears on the introduction for "US Policies after 10 Years in Afghanistan," while Allen Evans, who served as floor director in the studio, taped three of this year's shows (including Psych Rights Workshop and Our Streets, as seen in this newsletter).

Other topics include internment of Japanese Americans in World War II, questioning conventional wisdom about dairy products, and making the world a peaceful and nuclear free place.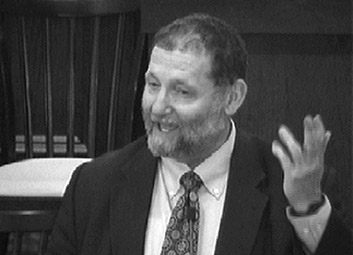 Psychiatric Survivor Presents "Psych Rights Workshop"
The title of our video of his presentation at the 2012 Rethinking Psychiatry symposium in Portland, "Jim Gottstein: Psych Rights Workshop" (VB #85.3&4) refers both to the content of Gottstein's talk and the name of the organization he co-founded that provides legal support for those diagnosed with mental illnesses. Gottstein is also a psychiatric survivor, Harvard Law School graduate, and member of the Board of Directors of the Society for Ethical Psychiatry and Psychology. Psych Rights specifically defends people facing forced psychiatric drugging and electroshock.

The workshop, held on the second day of the symposium, adds depth to the information we presented in "Rethinking Psychiatry 2012" a few months ago. Telling both his personal story and the ups and downs of suing and lobbying for people's rights, Gottstein talks about basic constitutional principles, the court system, pros and cons of drugs, and one of his most urgent concerns, the psychiatric drugging of children. He likens the civil rights struggle for mental health survivors to other civil rights struggles of the past.
Computer Campaign Success!
Your Donations Still Appreciated
In August, we launched an on-line Computer Campaign to raise $2000 toward purchasing a refurbished Macintosh Intel tower. We are so grateful to the people who responded, donating a respectable $875 toward that goal. In early January, we used these funds to purchase the Mac Pro Tower we sought! We still need a bit more money to pay for peripherals such as hard drives, connectors, etc. to integrate the computer into our existing system.

Another technology need for 2013 is for storage of our ongoing programming, which requires seven DVCAM 124 minute tapes at a cost of about $25 each. If one patron can donate $175, that will keep the Flying Focus Video Bus on the air for one year!

Donations of any size, volunteer time, and/or items on our wish list are always welcome. While donations for DVD orders are restricted to check/money order via snail mail, you can give money on-line at Network for Good if you do that sort of thing. Go to the "Donate" tab on our website to learn how.

We are currently experimenting with adding donation buttons to video clips. It appears that fewer and fewer people are using DVDs, even though we just adopted that format for our programs eight years ago. Follow links from the Video Clips tab on the website to see our first full streaming program, "Diversity and Thriving in Schools" (VB #77.12&13). If you have a moment to let us know how you view video content these days, please send us the information by mail or email:

• a) DVDs (/Blu-Rays)

• b) Online using a high speed computer internet connection

• c) On a smart phone or tablet

• d) VHS tape (yes, we've been doing this for a while)

• e) Video game console and an online service

Thanks as always for your input and support!
---
---