---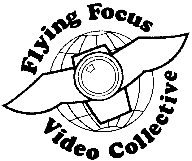 ---
Flying Focus Video Collective
February 2014 Newsletter
PMB 248 • 3439 NE Sandy Bv • Portland, OR 97232
(503) 239-7456 • (503) 321-5051 • ffvc@flyingfocus.org
---
Nonviolent Activist Returns to Iraq 10 Years After the Invasion
On March 19, 2013, exactly 10 years since the US invasion of Iraq, that ignoble anniversary was marked by a talk in Portland. Cathy Breen of Voices for Creative Nonviolence, who spent six weeks in Iraq in October and November 2012, spoke at First Unitarian Church. Her talk is captured in "Eyewitness 10 Years Later: What Iraqis are Saying" (VB #88.4&5).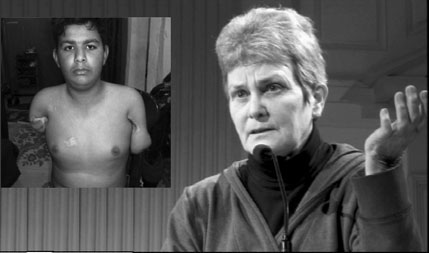 Breen's solo visit to Iraq brought word of the conditions of the country after being invaded, occupied and wracked with violence. She presented photos and stories to bring the humanity of ordinary Iraqis to the audience, including images of the deteriorated infrastructure: water, electricity, and hospitals. Her talk is a stark reminder that 13 years of sanctions and 10 years of war have left the country in ruins. To protect people's identities, some of the slides were left out of the finished program. This show is currently streaming on-line and on our site at www.flyingfocus.org/videostreaming.html.

--Clip-- • Streaming
How Common Core Hurts Education
In "Stan Karp on Common Core 2013" (VB #89.11&12), the editor of Rethinking Schools Magazine discusses the real agendas behind "Common Core." Common Core is the system of standardized testing and proposed nationwide school reform. Learn how this plan is meant to replace "No Child Left Behind"; how it affects students, teachers, schools boards, politicians and corporations. Who pays the cost and who gets the profit from investing in charter schools and closing public schools? Why are students, parents and teachers protesting? The event was taped in Portland on September 20 at Westminster Presbyterian Church. Karp asks, who will control education policy? He notes that Common Core is "a fabulous opportunity for the few with unequal access for the many," This show was taped, produced and edited by FFVC member PC Peri.
Kevin Boyle on Housing Discrimination
Videotaped in April 2010 and still relevant today, Kevin Boyle gives a history of the racial divide in the US, particularly as practiced through "redlining" and other organized methods of preventing people of color from getting an equal footing in owning homes. In particular, he describes a fascinating and little-known incident about how an African American couple, Dr. Sweet and his wife, purchased their first home in a white neighborhood in Detroit in the 1920's. While full of peril and tension, the story has a happy ending due to the intervention of the NAACP and Clarence Darrow. Professor Boyle is an engaging speaker, and his talk is featured in "Kevin Boyle: Housing Discrimination" (VB #88.8&9). It illustrates how a city can be segregated without laws being passed, connecting the past to the present, noting how the Civil Rights Movement did not produce the same sorts of changes in the North as it did in the South. This is the first program to be produced by FFVC entirely using its own digital editing equipment.
Police Oversight Board Considers Racial Profiling Incident as Rudeness Complaint
On August 7, Portland's 9-member Citizen Review Committee (CRC), a volunteer community body, held a full hearing on the case of Floyd McCorvey. The "Independent" Police Review Division (IPR) sent most of the case to Internal Affairs for investigation, but not McCorvey's profiling allegation. This was despite the fact that African American McCorvey was accused by a cop of being a pimp, walking with a "prostitute" (a stranger he met on the bus), smoking crack (because he had a medical marijuana pipe) and disparaged for living in public housing. The CRC heard from McCorvey, Internal Affairs, and the officers' supervisor. However, because of how IPR handled the case, CRC could only decide whether the officer's behavior was considered rudeness, not racial profiling.

In "Rudeness or Racial Profiling?: Portland's Police Review Board 2013" (VB #88.12&13) Flying Focus member Dan Handelman, who is also with Portland Copwatch, walks the viewers through about an hour of what was a three hour hearing. It shows not only the lengths to which the police will use guess work rather than evidence to support officers' behavior, but also the limitations (and some of the strengths) of the current oversight system.

--Clip--
---
"It seems to me Clarence Darrow got it exactly right. Until [the] system of segregation is dead and gone, until [the] system of segregation has been destroyed, we are not a civilized people."
--from "Kevin Boyle: Housing Discrimination" (VB #88.8 & 9).
---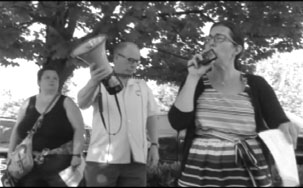 Supporting Workers at Walmart
In June, at a diverse gathering to support the efforts of Walmart workers to organize, people lined the sidewalk at the SE Portland Walmart on 82nd and Holgate. It was one of many similar events held nationwide to coincide with a meeting of management at Walmart headquarters in Bentonville, Arkansas. The Video Bus episode "Organizing Walmart Workers in Portland - June 7, 2013" (VB #90.1) features chants and marching led by Bob Marshall of Making Change at Walmart. With informative speakers and "Person on the Street" interviews we learn about the issues facing Walmart employees and the exploitative practices that have made Walmart the world's largest retailer. Speakers include Andrea Paluso of Family Forward Oregon, Heather McAfee of United Food and Commercial Workers Local 555, and Steve Snyder of Portland Jobs with Justice. This show was taped by Joe Anybody and PC Peri, and is the first Flying Focus show edited by longtime volunteer Allen Evans.
22nd Year of the Video Bus in Under an Hour
While the subjects of war and peace, nuclear issues and LGBTQ rights are part of this year's "Twenty-Second Busiversary" (VB #89.7&8), the most common theme of the 12 shows we produced between December 2012 and November 2013 was race and racism. Clips from the 12 two-part shows are introduced by Flying Focus participants who helped make them. We use the "Busiversary" to connect directly with viewers, since otherwise we're anonymous faces behind the cameras and in the edit room.

Programs about police and FBI racial profiling, how race impacts the death penalty, and "Jim Crow" laws that persist to this day make up part 1. "Jim Crow" laws are addressed by author Michelle Alexander, while other policies are highlighted by housing expert Kevin Boyle and a forum on African American Dads.

On part 2, after Kylar Broadus, a trans man of color who works for justice, the clips feature: talk of people who went to jail pursuing peace; a Hanford downwinder; the annual Hiroshima Day memorial; Portlanders who investigated drone strikes in Pakistan; and Cathy Breen's talk about her visit to Iraq 10 years after the invasion.

The Busiversary features clips from Dan Handelman, Barb Greene and Daniel Webb. PC Peri, our field footage coordinator, and videographer Joe Anybody also make appearances to discuss the programs they worked on. The Video Bus has been running weekly since November 18, 1991. We have slowly been uploading the clips featured on the Busiversary and you can view them through our website, at www.flyingfocus.org/videoclips.html.
Life as a Downwinder
On July 8, 2013, Flying Focus field footage coordinator PC Peri recorded an interview with Hanford Downwinder Clariss Rogers in Portland. That interview is featured on "Hanford, Cancer and Hope" (VB #89.3&4). Rogers, who grew up in Zig Zag, Oregon, gives a close-up and personal view of the devastating effects on her family and friends living downwind of Hanford Nuclear Plant. She describes multiple diseases, including various cancers that she believes are connected to the radioactivity from the Richland, Washington facility. Despite the harmful impacts on her, Rogers talks about ways to make a difference, including her decade of running a cancer chapter to help others affected by the illness. Her inspiring words may move you to action.
Archiving Project Update and How YOU Can Help
With the help of Flying Focus' generous supporters and a grant from the Mt. Hood Cable Regulatory Commission (funded by Comcast, believe it or not) we were able to integrate our new computer into our weekly production routine and go (mostly) digital. Every program since July, 2013 was produced using our Mac Pro Tower and the software and hardware we purchased with the grant; this also required us to familiarize at least four members of the group with the equipment, a goal we achieved in December.

While the grant and past donations brought us this far, we discovered quickly how much digital space our videos occupy, already filling up several hard drives. It's clear we will need to purchase at least 6 more external hard drives (which cost about $100 each) to make it through the next few years of production. As a safety, we also continue to archive our shows on DVCAM tape, which means spending about $200 more per year on tape stock. If you can help us in any way, please send a donation in the mail or visit www.flyingfocus.org/donateonline.html.

Meanwhile, two of our volunteers spent many hours this year making archive copies of the 120 or so programs that are available on DVD (of the 800 or so we've produced). You will soon see changes to our online catalog www.flyingfocus.org/catalog.html indicating which shows you can order for quick turnaround time (three shows in the new catalog insert have this marking). Creating a new DVD from scratch can take 4-6 weeks, but these shows can be sent back to you in 1-2 weeks' time. So please consider donating to own a physical DVD. Physical media may be going out of style, but your internet service could be interrupted, or your cloud-based entertainment could be blocked, so we recommend owning a hard copy. It's highly unlikely that someone will come to your house and take your DVD away from you.

Help us keep getting the word out to the community and the world about these important social justice issues-- support Flying Focus!
---
---