---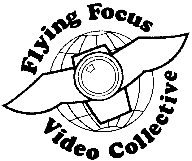 ---
Flying Focus Video Collective
February 2015 Newsletter
PMB 248 • 3439 NE Sandy Bv • Portland, OR 97232
(503) 239-7456 • (503) 321-5051 • ffvc@flyingfocus.org</ p>
---
Look Out for GMOs!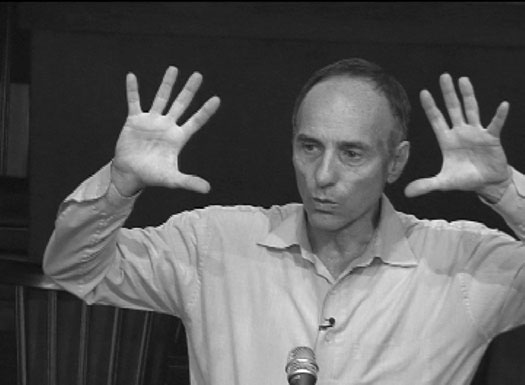 Foods containing genetically modified organisms are extremely controversial. Jeffrey M. Smith is a leading consumer advocate promoting non-GMO choices. His books include Seeds of Deception: Exposing Industry and Government Lies about the Safety of the Genetically Engineered Foods You're Eating and Genetic Roulette: The Documented Health Risks of Genetically Engineered Foods. Mr. Smith's feature-length documentary Genetic Roulette-The Gamble of Our Lives was awarded the 2012 Movie of the Year (Solari Report) and the Transformational Film of the Year (AwareGuide). "GMOs: A Risky Business" (VB #93.2&3) features a talk he gave in Portland in September, 2014 about the dangers of GMOs. A passionate and engaging speaker, he presents a compelling case for paying attention to what we are eating.

Jeffrey Smith explains the risks of genetically modified foods in "GMOs: A Risky Business" (VB#93.2&3)
Activists Take on Police, Housing & Jobs
They say you can't fight City Hall. In one recent episode of the Video Bus, a woman whose son was beaten by the police told off the Citizen Review Committee (CRC) for how they treated his complaint, and protestors celebrated Martin Luther King Day with a march for housing and jobs. Jeri Williams, the mom, spoke to CRC in June, 2014 as they deliberated on whether officers used too much force when they put her son in maximum restraints and, he says, punched him in the face.

The January 2014 Sisters Of The Road march focused on the rights of houseless people, including rest area Right 2 Dream Too and sweeps by the police, as well as a day laborers' site whose land the City is trying to take away. Marchers chant, give speeches, and speak with FFVC along the way. Dan Handelman, who's also with Portland Copwatch, produced the show "Fighting City Hall: Police Accountability, Homes and Jobs" (VB # 92.6).
Successful Education and Its Opposition
Curtis Acosta taught high school for nearly 20 years in Tucson, where in 1998 he developed and taught Chicana/o Literature classes for the Mexican American Studies Program (MAS). MAS grew to 43 classes serving 1500 students. In 2011, the high school dropout rate for MAS students in Tucson was 2.5%, as opposed to 56% for Latino students nationally. 66% of MAS students went on to college. MAS classes were featured in the documentary "Precious Knowledge" and on CNN, PBS, the NY Times, the LA Times and the Daily Show. MAS Curriculum has since been banned by the State of Arizona.

In April, 2014, Acosta spoke at Madison High School in Portland, at the invitation of Portland Rethinking Schools. In "Curtis Acosta: Teaching and Organizing for Justice" (VB #92.2&3), he speaks about educational programs that can inspire hope, empathy and love, as well as learning. Acosta is engaging and dynamic-- not the stereotypical academic bore.
It's Time to Get Off Coal
Coal is bad. It's nasty, toxic stuff that's dug up, transported to electric generating plants and burned. Along the way it spews poisonous toxicity, resulting in air and water pollution, illness, mercury contamination, acid rain and climate change. Though the PGE Boardman plant will stop burning coal by 2020, a significant amount of Oregon's electricity is imported from out of state coal plants. We have alternatives for our electricity.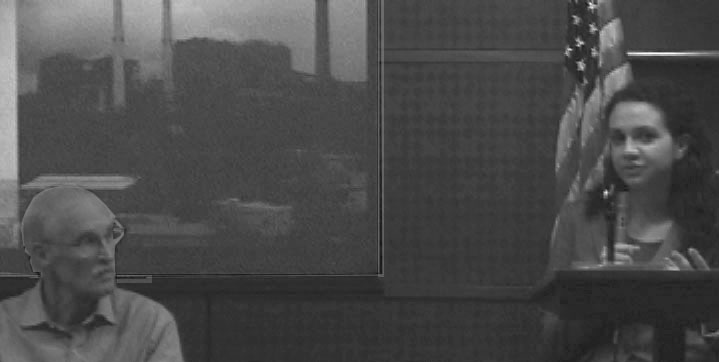 In November 2014, the Sierra Club held a forum to kick off its "Coal to Clean Energy" campaign to get Oregon free of coal- sourced electricity by 2025. In "Sierra Club: Coal to Clean Energy" (VB #93.10&11, produced by Allen Evans), hear from Dr. Andy Harris of Physicians for Social Responsibility on the effects of coal on human health both directly and through climate change. Amy Baird of Renewable Northwest shows that renewable sources can bring good things to Oregon's economy, and Jeff Bissonnette of the Oregon Citizens' Utility Board explains the issues in making the transition. Laura Stevens of the Sierra Club hosted.
Dr Andy Harris and Laura Stevens on the panel in "Sierra Club: Coal to Clean Energy" (VB #93.10&11)
Free the Elephants!
Many zoos in the country are closing their elephant exhibits. In "The Elephant in the Room" (VB #92.8), we hear from concerned community members who want to see the elephants at Oregon's Zoo in Portland live healthy lives in a space appropriate for their size. Focusing on the bond measure passed years ago which promised to move the elephants to a sanctuary, people went to the May 8 Metro Council meeting at the urging of Free the Oregon Zoo Elephants. The testimony outlines physical and psychological effects of captivity. Local activist Courtney Scott introduces the show with background on the issues at play. Streaming
Portland Professor Paints Picture of Occupied Afghanistan
In August 2014, Zaher Wahab spoke in Portland about the current situation in Afghanistan. The Portland professor has worked part time in Afghanistan, been witness to the US Occupation for the past 13 years, and is currently administering the MA in Education program at the American University of Afghanistan in Kabul. When Afghans went to the polls to vote for a new President, both candidates promised to sign a Status of Forces Agreement with the US allowing an estimated 10,000 American troops to stay in the country at least until 2016, possibly longer. Referring to the deteriorating and possibly country-dividing violence in Iraq, Wahab worried that what is happening in Iraq could happen in Afghanistan. In "Zaher Wahab: Afghanistan on the Brink" (VB #92.10&11, produced by Mike Brown), he describes a country riddled with violence and corruption, where poverty and unemployment clash with the security state.
Flying Focus Video Bus Celebrates 23 Years of Programming
Flying Focus' annual retrospective for 2014 features five producers highlighting shows about the environment, racial and economic justice, education, war and peace, nuclear issues, media literacy, labor struggles, animal rights and creative "reuse" recycling.

Part 1 of the "Twenty-Third Busiversary" (VB #93.6&7) includes clips from Barb Greene, PC Peri, Mike Brown and Dan Handelman which focus on brownfields, Latinos' experiences in Oregon, what's wrong with "Common Core," the efforts to end war, and the ongoing US presence in Afghanistan.

Part 2 has Dan, Allen Evans, videographer Joe Anybody, and Barb talking about Hiroshima Day 2013, police accountability and housing rights, stories being exposed by Project Censored, protests against Walmart, the health risks of genetically modified organisms, Portland's zoo elephants, and "getting your junk fixed" at the Repair Cafe.

The 14 sets of clips are taken from 24 episodes produced between December 2013 and October 2014. Flying Focus uses its yearly review not only to present a summary of the year's work and issues, but to de-mystify the experience of making television.
---
In 2014-15, the documentaries "Aftermass" and "Arresting Power" solicited and/or used footage from Flying Focus.
---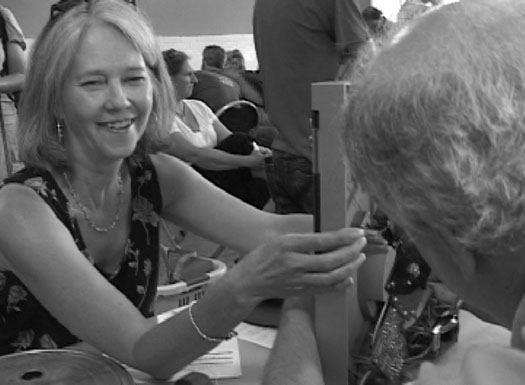 A woman gets her record player repaired in "Get Your Junk Fixed" (VB #92.14)
Don't Toss It, Fix It!
Do you have appliances that don't work? Clothes with ripped seams or broken zippers? Hate to throw them in the landfill, but don't know where to get them fixed? You might want to try a Repair Cafe, where you can meet other community members who are on hand to (hopefully) fix items as well as teach participants how to fix things on their own. Take broken items along with patience and a DIY attitude. "Get Your Junk Fixed" (VB #92.14) covered a Repair Cafe in action in North Portland and shows one way to help save the environment. The video shows mechanical, electrical and fabric-related repairs underway.
Finding Funding for Future Filming
OK, so, we use video and not film, but the alliteration was too much fun to pass up. Plus, we at Flying Focus wanted to get your attention about ways you can help ensure we keep bringing important and varied voices (as you can see from the shows in this issue of the newsletter) to the public. While we've been able to put some of our shows and clips on line, our friends at Labor Beat in Chicago put it bluntly: "electronic communication doesn't magically solve income problems." That's one reason why we ask you to consider sponsoring the online streaming of one of our shows-- $75 will get one program (even if it's two parts) on line (or $125 if you're with a large institution). You can also order a program or two on DVD. Or, just donate to FFVC-- money, DVCAM or mini DV video tapes, hard drives, blank DVDs/DVD-RAMs, and postage stamps are among the items we always need.

We have applied for a grant from Mt Hood Cable Regulatory Commission to acquire hard drives and tapes to allow us to produce for 2-3 more years. Even if we are awarded that grant, we need help to produce shows from now until June, plus we have expenses related to our day to day operations as an all- volunteer group. Fortunately, we did get a donation in response to our request in the last newsletter and have purchased a USB3 card for our Mac Pro Tower! Now we just need the hard drives to plug into it. We so appreciate the community's support for our work and hope you value it enough to give.
---
---