---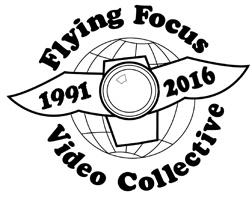 ---
Flying Focus Video Collective
February 2016 Newsletter
PMB 248 • 3439 NE Sandy Bv • Portland, OR 97232
(503) 239-7456 • (503) 321-5051 • ffvc@flyingfocus.org</ p>
---
Phyllis Bennis Proposes Alternatives to US Bombs in Iraq and Syria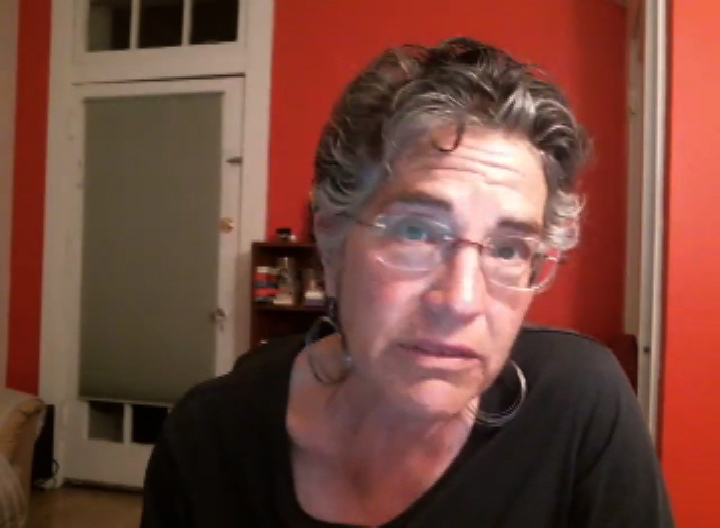 Renowned author and analyst Phyllis Bennis of the Institute for Policy Studies talked to an audience in Portland on May 18, riffing off the US government's own claim-- that there is no military solution to the Islamic State (ISIS) and its violent takeover of large swaths of Iraq and Syria. Speaking over an internet connection from Washington, DC, Bennis offered up an 8 point plan to resolve the situation. She also gave information on the situations in Yemen, Israel/Palestine, the broader region and in the peace movement in the US. Her encouraging words noted that all movements, from climate change to Black Lives Matter, are interconnected to the military budget and the ongoing overseas wars. Her presentation is featured in the twopart episode "Phyllis Bennis: Non-Military Solutions to the War on ISIS" (VB #96.1&2).
The videoconference was held at the Multnomah Friends Meeting House, with video and audio provided locally by Mungen Cakes, and recorded by PC Peri of Flying Focus. The event was hosted by Peace and Justice Works Iraq Affinity Group.
Riding for the Climate
On June 24, Flying Focus interviewed bicyclists participating in that day's Climate Action Ride at the Salmon Street Fountain, then produced the show "Climate Action Ride" (VB #96.9).

People from groups affiliated with the Climate Action Coalition talked about Portland City Council's plan to vote on a Climate Action Plan that day, other locations the bicycle ride would stop (including the headquarters of the Oregonian newspaper and other profiteers), and reasons they were urging congressional leaders to step up on climate justice issues. Visuals included banners, bike art and a mock oil train (marked "Tank of Doom"). This show was taped by PC Peri, and produced and edited by Barb Greene.
Paul Shapiro: Eating for the Planet
Prominent animal advocate Paul Shapiro, Vice President of Farm Animal Protection for the Humane Society of the United States, discusses the current climate crisis at a talk in Portland in May 2015. Although prospects for climate-change policy emanating from Washington, DC are dim, Shapiro shines the light on actions we can each take for the planet -- every time we sit down to eat. He explains how our food choices have enormous power to protect the planet, prevent animal abuse, and improve our health. Highlighting various achievements of the animal rights and other movements, Shapiro is an inspirational speaker.

This two part episode "Eating for the Planet" (VB #96.5&6) was taped by FFVC Field Coordinator PC Peri, produced by Barb Greene, and edited by JT Waldron with assistance from Dan Handelman.
---
Thanks to a generous donor, "Eating for the Planet" can be seen streaming on line at www.flyingfocus.org/Eating4Planetstreamingpage.html

---
Oregon and Viet Nam-Based Activists Present Information on Viet Nam Today
Peace and Justice Works board member Desiree Hellegers joined a delegation to Viet Nam led by Veterans for Peace Chapter 160 in April, 2015. Her report back on that trip, enhanced with commentary by Portland activist Becky Luening and Viet Nam veteran Don Blackburn, both of the Viet Nam Friendship Village Project USA, is featured on the show "Report from Viet Nam 2015" (VB #97.10&11).
Hellegers, a founding member of the Center for Social and Environmental Justice at WSU Vancouver*, witnessed the generational effects of Agent Orange, the continuing threat of Unexploded Ordinance (which have killed over 60,000 people since the withdrawal of American Troops), and the return of Monsanto, which manufactured Agent Orange. Her talk is supplemented by photos she took on the journey. Luening, who's a member of Veterans for Peace (VFP), describes the process of founding the Friendship Village and how it helps war survivors and their children. Blackburn, with the VFP 160 Chapter in Viet Nam, reads from his writings and explains how the Vietnamese people were unexpectedly grateful and welcoming to US veterans who returned to the country.
This program was video captured by Joe Anybody and coproduced by Barb Greene and Dan Handelman.
* Now known as Collective for Social and Environmental Justice
24th Busiversary--Looking Back at 2014/2015
Flying Focus volunteers got together in November again for a "behind the scenes" look at the last year of "video as a tool for social change." Four producers, an editor and a camera operator talked about the 13 shows produced by Flying Focus between November 2014 and October 2015 in the "Twenty-Fourth Busiversary" (VB #97.6&7), a two-part retrospective show. On the program, PC Peri, Dan Handelman, Barb Greene and Allen Evans talk about the episodes they produced. Chris Fuzell and JT Waldron each introduce the shows they worked on, respectively police accountability, and how eating vegetarian can help the planet. Other topics covered include: First Nations struggles and their similarities to the occupation in Palestine; war and peace/nuclear issues, how prison art changes lives, ending dependence on coal for energy, a bike ride for ending climate change, and Juneteenth.

The 13 sets of clips are taken from 24 new episodes. The "Busiversary" was produced by Dan, with about a dozen people working on the studio taping.
2015 Hiroshima Day Memorial Marks 70 Years of Nuclear Terror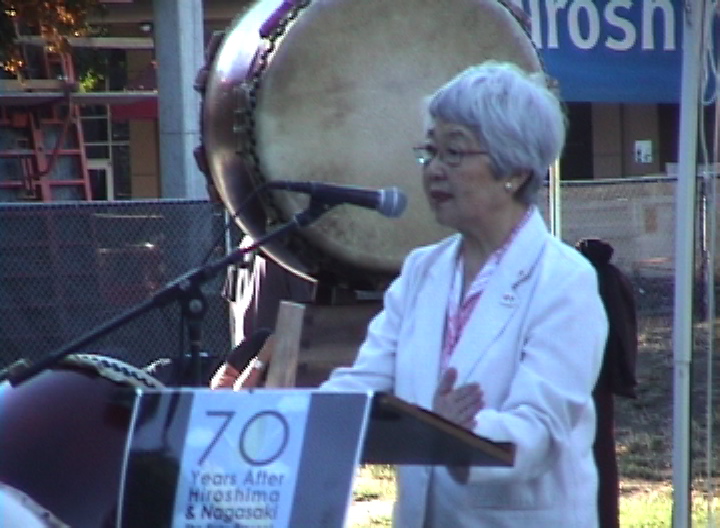 The 2015 memorialization of the bombs dropped on Hiroshima and Nagasaki included a number of speakers and performers, featured on the show "The Ever-Present Nuclear Threat, 70 Years After Hiroshima" (VB #96.11&12). Michiko Kornhauser, who was a school child in Japan when the bombs dropped, told her personal and family history, and then sang an important Japanese peace song with the Tomodachi Chorus. Also on the programs are Marshall Islands activist Pastor Joe Enlet of the Chuuk Logos Community Church, Sahomi Tachibana's dance group, and anti-nuclear activist Carol Urner, who helped organize Portland's first Hiroshima Day commemoration in 1962. The speakers connected the past to the present and gave people ideas of things to do to make a difference. Closing out the program, host Ronault "Polo" Catalani read letters from the Mayor of Hiroshima and Senator Jeff Merkley, turning the stage back for the Taiko drummers to wrap it up.

Michiko Kornhauser

The event took place on August 6 at Portland's Japanese American Historical Plaza, organized by Oregon Physicians for Social Responsibility. This show was taped, edited and produced by Dan Handelman. Streaming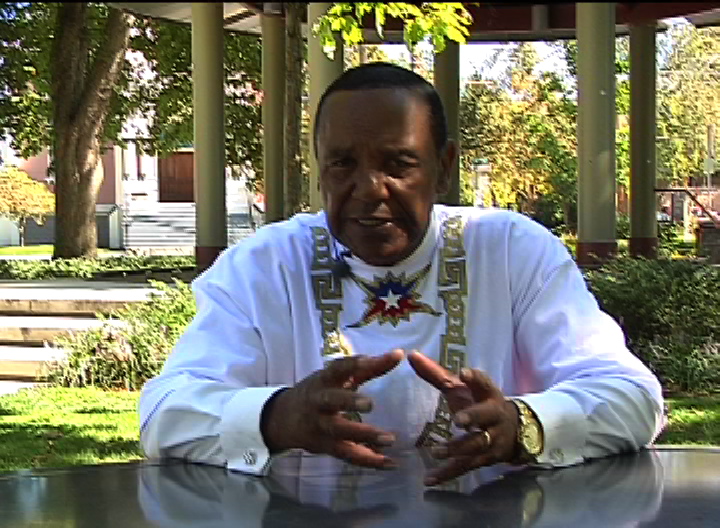 Juneteenth Celebrated in Portland
In "Juneteenth 2015: 150 Years Toward Freedom" (VB #97.2&3), "Mr. Juneteenth" Woody Broadnax and participants at the 2015 Juneteenth celebration in Portland talk about the history and significance of the holiday, marking the day that notification of the end of slavery reached Galveston, TX in 1865. People discuss redlining and other forms of discrimination that continued after slavery ended. This show is a reminder that as far as this country has come since the Civil War, there is still more work to do for equality.

This two part program was taped by FFVC Field Coordinator PC Peri with interviewer Robin Cash, produced and edited by Barb Greene, with assistance from Dan Handelman.
Support Flying Focus in Our "Silver Anniversary" Year
Flying Focus will be formally celebrating our 25th anniversary later in 2016, but we formed in January 1991 as part of the local Coalition opposing the "Gulf War." In 2015, we produced another 26 original episodes of the weekly Video Bus, and posted nine episodes on line for streaming. We acquired donated equipment from Portland Community Media to allow us to keep accessing older shows and technologies, as well as two extra Macintosh computers for editing new programs. We recently renewed our domain name until 2019 and updated our catalog, which you can download at flyingfocus.org/catalog.html or we can send you a copy for a $3.00 donation.

Community support is greatly appreciated and crucial for the ongoing work of Flying Focus. We can't do it alone. Production and other costs continue to rise and we are only as strong as support from people who know the value of alternative programming. If you would like to make a donation of any size or order one or more videos from this newsletter, it would help us immensely as we get going on our quarter-century anniversary year. If you want to sponsor any title to stream on the web to a worldwide audience, send $75 to cover the streaming rights.

If you can donate other items such as equipment or office supplies, see our wish list at flyingfocus.org/wishlist.html. We're specifically looking for $75 to pay for cards to allow our computers to talk to USB hard drives (rather than just Firewire, which has become obsolete). To donate money online (no DVD orders/streaming rights due to restrictions from our online service) go to flyingfocus.org/donate.html.
---
---