---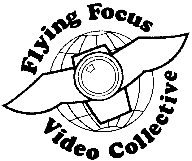 ---
Flying Focus Video Collective
February 2018 Newsletter
PMB 248 • 3439 NE Sandy Bv • Portland, OR 97232
(503) 239-7456 • (503) 321-5051 • ffvc@flyingfocus.org</ p>
---
Think About Natural Burial
About 800,000 gallons of formaldehyde-based embalming fluid, a known carcinogen, are buried in U.S. cemeteries every year. According to the nonprofit Centre for Natural Burial, 10 acres of cemetery contains nearly 1,000 tons of casket steel, 20,000 tons of concrete for vaults, and enough wood from buried coffins to build more than 40 homes.
At one time, cremation was thought to be a relatively eco-friendly alternative to traditional burial. A growing body of research, however, finds that standard cremations require the release of greenhouse gases (from burning natural gas) and the vaporization of chemicals that may be present in the cremated body (such as mercury used in amalgam dental fillings).
"Shades of Green Burial"(VB #105.11) is for those who are interested in a more sustainable legacy when they die. The show features an interview conducted by FFVC volunteer Joan Sanford with eco-mortician, author, actor, and goat herder Elizabeth Fournier. Known as the "Green Reaper," she shares her considerable knowledge about natural burial and other alternatives to standard burial and cremation.
Watch Short Clips from 2016-2017 on the Busiversary
We ordinarily try to let presenters or events play out at length on the Flying Focus Video Bus. Once a year we compact those shows into short (2-3 minute) clips for a retrospective show. The "Twenty-Sixth Busiversary" (VB #105.7&8) features thirteen programs produced between Nov. 2016 and Oct. 2017. Three of the four producers speak about why they made the shows they did, and some of the crew make appearances as well.

Part 1 features two commemorations of the bombs dropped on Hiroshima and Nagasaki (from 2016 and 2017). Four shows examine organizing for change and systems of government: Teaching for Social Justice speaker Kevin Kumashiro, a panel looking at money in politics, Democracy Now! host Amy Goodman giving a local talk, and visionary Charles Eisenstein.

Part 2 starts out with a World Bank economist on climate change. Two shows taped at the Portland conference on Mental Health and Law Enforcement (Elyn Saks and police at mental health crises) lead into two shows on police issues-- (1) a City Council hearing about Portland officers tasering a man and (2) the Albina Ministerial Alliance (AMA) Coalition for Justice and Police Reform march from January 2017. The show closes out with two more panels: examining the 75th anniversary of the internment of Japanese Americans, and Asian American / Pacific Islanders connecting struggles for racial justice.

Hear from producers PC Peri, Barb Greene and Dan Handelman (sitting in for Mike Brown), and volunteer Steven Roberts talking about the programs they made. The Video Bus premiered on November, 1991 and has run weekly ever since.
Despair at Destruction Caused by Nuclear Weapons, Hope that the World Will Eliminate Them
Flying Focus was once again able to capture video of speakers and artists at the 2017 annual Hiroshima/Nagasaki day memorial event in Portland, which took place on August 9. The show featuring the event is titled "From Despair to Hope: Hiroshima/Nagasaki 2017" (VB #105.4). The event, hosted by human rights lawyer, activist, and writer Ronault "Polo" Catalani, included a musical performance by Portland Taiko. Also speaking was Yukio Kawano, a third generation hibakusha and creator of "Suspended Moment," an art piece involving dance, poetry and replicas of the American atomic bombs that fell in 1945. She was joined by poet Allison Cobb for a poem using words from President Obama's visit to Hiroshima.

The keynote speaker was Sean Tenney, Associate Director of sponsoring organization Oregon Physicians for Social Responsibility. He spoke about the persistent threat of nuclear weapons from mining to manufacturing to deployment, as well as progress made in Oregon and at the international level. As usual, the event took place at the Japanese American Historical Plaza in Portland's Waterfront Park.
Community Struggles to Reduce Police Violence through Dept. of Justice
On June 16, 2017 the Albina Ministerial Alliance Coalition for Justice and Police Reform conducted a panel as part of the 2017 Mental Health and Law Enforcement Conference in Portland. Attorneys Ashlee Albies and Kristen Chambers joined AMA Coalition co-chair Dr. T. Allen Bethel to revisit the Agreement requiring Portland Police to use less force. On this two-part episode ("Overseeing Justice: US DOJ vs. City of Portland," VB #105.13/106.1) they explain history of the Agreement and talk about what it means for people of color, people with mental health issues, all Portlanders and the country. Overall the conference included twelve interactive sessions featuring legal, clinical and experiential experts.

This show was taped by Alva Myers, produced by PC Peri and assisted by Dan Handelman. It can be seen streaming at flyingfocus.org/MHDOJvsPdx_streamingpage.html.
Coming to Terms with Schizophrenia
"Elyn Saks: Making Peace with Mental Illness" (VB #105.1&2) covers Elyn Saks' keynote talk at the June 2017 Mental Health and Law Enforcement Conference. Saks, who was diagnosed with schizophrenia as a young adult, is a Professor of Law, Psychology, and Psychiatry and the Behavioral Sciences at the USC Gould School of Law as well as Director of the Saks Institute for Mental Health Law, Policy, and Ethics. Saks received her JD from Yale Law School, and a PhD in Psychoanalytic Science from the New Center for Psychoanalysis. She writes extensively in the area of law and mental health. Her research has included the ethical dimensions of psychiatric research and forced treatment of people with mental illness. Her talk, which includes excerpts from her memoir The Center Cannot Hold: My Journey through Madness, describes her struggles with her mental health and how she managed to craft a good life for herself in the face of a dire prognosis. An inspiring story!

Thanks to a donation from the Mental Health Association of Portland (MHAP), the show is streaming on our website at flyingfocus.org/MHElynSaks_streamingpage.html.
Panel on Police Presence and Mental Health Crises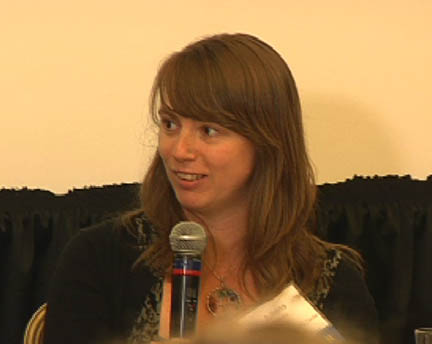 Another video from the Mental Health and Law Enforcement conference featured a panel discussion and was called "Police Presence During Mental Health Crises: Help or Hindrance?" (VB #104.10&11). The speakers were Meg Kaveny, LCSW of Project Respond, Brenton Gicker, EMT, RN of CAHOOTS, Juliana Wallace, LCSW of Unity Center, and moderator Karen James of KBOO Radio. As suggested by the title, the panelists discuss ways to humanely assist those in crisis through the lens of mental health professionals who sometimes partner with police agencies. This show was taped and edited by Mike Brown with help from PC Peri, Dan Handelman and Barb Greene.

Juliana Wallace, LCSW of Unity Center

Again thanks to the MHAP, this show can be seen streaming on line at flyingfocus.org/MHHelpHinder_streamingpage.html.
Portland Calls for Justice & Police Reform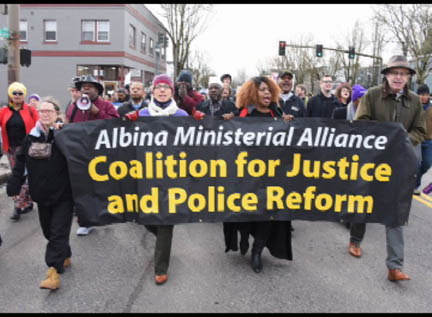 On January 28, 2017 the Albina Ministerial Alliance (AMA) Coalition for Justice and Police Reform held a March for Justice and Equality that led from Portland's Martin Luther King Jr. statue to Maranatha Church. The event marked the 7th anniversary of the death of Aaron Campbell, an unarmed African American man shot by Portland Police in 2010, and the transition to a new federal government that poses a threat to the civil liberties of many communities. FFVC volunteer Steven Roberts captured the rallies, and Douglas Yarrow provided stills of the march for the two- part episode "Marching for Justice, Equality and Police Reform" (VB #104.6&7).

Featured are speakers from the Coalition, Portland NAACP, a Grant High School student, several faith leaders, staff persons for Oregon's Senators, an immigrant rights organizer, representatives from Asians 4 Black Lives PDX, Sisters Of the Road, and Iraq Veterans Against the War, as well as parents of both Aaron Campbell and James Chasse, Jr. (who was beaten to death by police in 2006). Music is from Marilyn Keller, Pastor E.D. Mondaine, and Naomi Littlebear Morena. The march lifted spirits and sent a message that people want to end police violence against community members around the nation.

Thanks to the AMA Coalition, this show can be seen streaming at flyingfocus.org/AMA_March0117streamingpage.html.
Net Neutrality and Activism Using Video for Social Change**
In December, the Federal Communications Commission voted to overturn "Net Neutrality" rules, which could mean that independent media such as Flying Focus would be sidelined in favor of more monied, corporate interests to get their messages out. FFVC has been able to function since 1991 mostly because of laws governing essential media monopolies like cable companies, that force them to give back to the community in the form of public access equipment and channels. In fact, the Mt. Hood Cable Regulatory Commission (MHCRC), a government body that oversees how television providers operate in the Portland area, distributes grant money from Comcast which helps fund Open Signal/Portland Community Media where we show most of our work. FFVC has received a 2017 production grant from MHCRC to help us with digital editing and archiving.

But we also need your help to keep the doors open at our office so we have somewhere to use and store that equipment! Please donate via check or money order or online at www.flyingfocus.org/donateonline.html to ensure our important educational videos can continue to be available to the public. Consider ordering a show on DVD* or donating for streaming rights ($75 for one title/$125 for larger institutions). In addition to our weekly series on cable TV (Comcast and CenturyLink) we now have dozens of programs on line, including 18 past "Busiversaries" that show short clips from just about every episode we have ever produced. See the clips at www.flyingfocus.org/retrospectivestreaming.html. As always, we thank you for your support!

* Due to restrictions, DVDs must be paid for with check or money order.
back to text

**original headline read "Net Neutrality vs. Activism..." which wasn't what we had in mind.
back to text
---
---