---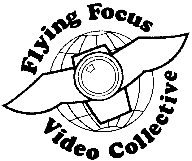 ---
Flying Focus Video Collective
February 2019 Newsletter
PMB 248 • 3439 NE Sandy Blvd • Portland, OR 97232
(503) 239-7456 • (503) 321- 5051 (call/text) • ffvc@flyingfocus.org
---
Protecting the Planet and Free Speech
In May 2018, Flying Focus conducted an interview with Lindsey Grayzel, the director of the important documentary The Reluctant Radical. Her film focuses on the activism and frequent arrests of Ken Ward, a man deeply motivated to end climate change. Following Ward at a safe distance on a series of civil disobedience actions,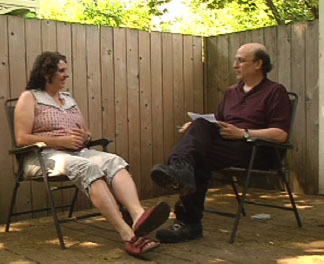 Grayzel herself was arrested in October 2016 and had her footage seized by authorities in Washington state. Ward and a number of people in other parts of the country shut off oil pipelines to condemn the use of fossil fuels. Flying Focus' interview susses out Grayzel's motivations, experiences, and her thoughts about the greater implications of the government seizing documentary footage. Our show, "The Deliberate Documentarian: Making 'The Reluctant Radical'" (VB #108.4) includes clips from the finished film, which continues to show around the world at film festivals. You can see a clip from the Flying Focus interview at http://www.flyingfocus.org/videoclips4.html#DelibDoc

.
Kathy Kelly Tells Personalized Tales of War Zones
Kathy Kelly, co-coordinator of Voices for Creative Nonviolence, author and Nobel Peace Prize Nominee, spoke at Portland Community College-Cascade on September 27. Having traveled to Iraq, Afghanistan, Yemen and Gaza, Kelly was able to relay both information about how the US government is directly and indirectly responsible for the military conflicts in those nations, and moving stories about the people affected by the wars. As someone who has been arrested dozens of times for nonviolent direct actions, Kelly also shares stories about women she met in prison. The fact that the US has been at war in Iraq more or less since 1991, the war in Afghanistan continues after 17 years, and the US (at the time of her talk) continued to support the Saudi war on the people of Yemen means this information is important for anyone who wants to know what their tax dollars are supporting. Watch the show "Kathy Kelly 2018: Human Stories of US Wars" (VB #109.11&12) and be moved to make a difference.
---
"It used to be that you made weapons to fight wars, but now we make wars to sell weapons"
-- "Kathy Kelly 2018: Human Stories of US Wars" (VB #109.11&12)
---
Speaking Out for Science
The March for Science Portland was held as part of a series of rallies and marches in over 600 cities across the world on April 22, 2017 (Earth Day). The Audubon Society of Portland, Oregon Environmental Council, Oregon Health & Science University, and Xerces Society organized the march in support of science and to protest President Donald Trump's plan to cut funding for the Environmental Protection Agency and the National Institutes of Heath, withdraw from the Paris Agreement and decrease funding for scientific research and K-12 science programs, among other policies. In "Earth Day Science Expo" (VB #109.4) organizers, attendees and exhibitors talk about the importance of science and how we can use it to help our planet. This show includes information on compressed air power, biochar (carbon-absorbing charcoal), and turning biomass into methanol.

--Clip--
Celebrate the 27th Busiversary!
On the "Twenty-Seventh Busiversary" (VB #109.7&8), FFVC producers and volunteers once again come out from behind the cameras to introduce clips from the previous year's shows. This year's Busiversary features 14 shows (made up of 24 episodes) produced by four FFVC members: Barb Greene, Dan Handelman, PC Peri and Allen Evans. The topics include environmental justice, civil rights, war and peace/foreign affairs, fraud prevention, police accountability, urban planning, the intersection of faith and justice, and immigrant/refugee rights. The show also includes a tribute to FFVC associate member April Adams, who died in August.

Part 1 has four shows featured in this newsletter: Portland's commemorative event remembering Dr. Martin Luther King, a panel on avoiding fraud and scams, the 2017 Earth Day Science Expo, and filmmaker Lindsey Grayzel discussing her documentary The Reluctant Radical. Other shows cover how factory farming of meat impacts the climate, an expert on natural burial, and a 2016 protest of the Dakota pipeline.

Part 2 features a 2018 panel discussion on Iran, a 2017 panel discussion on various current and looming US wars, yet another 2018 panel about getting Portland Police out of an FBI terrorism task force, a presentation about the US Department of Justice's agreement with the City of Portland to reform police, President Obama's "spiritual advisor" speaking in Portland in 2018, a discussion of plans to revitalize inner NE Portland, two events about immigrants, refugees and Portland's African culture, and the tribute to April. The show marks 27 years since the Video Bus premiered in November, 1991.

Streaming
Keeping the Dream Alive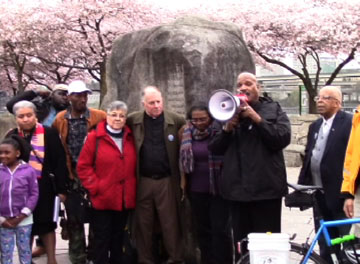 April 4, 2018 marked the 50th anniversary of the assassination of Martin Luther King, Jr. To commemorate this occasion, the Albina Ministerial Alliance Coalition for Justice and Police Reform, along with the Ecumenical Ministries of Oregon and other Portlanders, held a memorial march and rally. They called on all people who love democracy, freedom, justice, equality, peace, elimination of poverty and who desire to build the Beloved Community to take a stand and recommit to the Dream of Dr. King.

"People of the Dream Remember Martin Luther King, Jr." (VB #108.6&7) covers the march and rally. Folks gathered at the Japanese American Historical Plaza in NW Portland and marched across the Steel Bridge to the MLK Statue by the convention center for the rally. There, faith and community leaders and activists remembered King's words and legacy and inspired everyone to recommit to his ideals of justice, peace, hope and beloved community for all. The show also includes music led by the incomparable Marilyn Keller, Portland's "First Lady of Jazz."

--Clip--
How to Avoid Fraud and Scams
Financial fraud affects more and more people all the time with new scams being developed for every new form of technology. On June 15, 2018, Hollywood Senior Center and Elders in Action co-hosted a panel of experts from Oregon Department of Justice, Aging and Disability, Elders in Action Personal Advocacy Program, and real estate and banking experts. Our program "Fraud and Scam Prevention" (VB #109.1&2) covers that panel and includes ways you can protect yourself, your friends, family and community.

--Clip--
The Demise of the Iran Nuclear Deal
On June 29, Portland-area groups hosted an important panel discussion concerning the US pulling out of the Joint Comprehensive Plan of Action (JCPOA) regarding Iran. In our program covering the event, "The Iran Nuclear Agreement: A Path to War?" (VB #108.10&11), four speakers give their perspectives. Jamal Abdi, Executive Director for the National Iranian American Council (NIAC), talks about the history of the Agreement and possible next steps. Investigative journalist and author Reese Erlich talks about reactions he heard from the people of Iran, and notes how US policy in other countries (Syria, Afghanistan, Libya) makes people nervous about US intervention. Jeff Curtis, a Peace Corps volunteer in Iran from 1967-70, speaks about being in Iran in May 2018 when President Trump decided to withdraw from the JCPOA.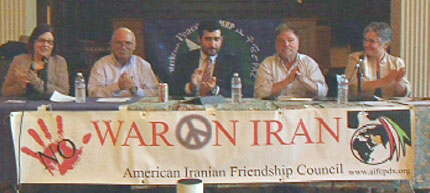 Catherine Thomasson, MD, former Executive Director of the national Physicians for Social Responsibility (PSR), traveled on a PSR delegation to Iran in 2007 to promote diplomacy and here speaks about the dangers of nuclear weapons. The panel also answers questions from the audience. The event and the show were dedicated to the memories of Ann and Bruce Huntwork, Portlanders who did humanitarian work in Iran and the USA. Both died during the nine months prior to the forum.

--Clip--
Please Support Flying Focus in Life... or After!
You are probably reading this newsletter because you care about protecting the rights of all, promoting a green planet and supporting independent media. Flying Focus relies on donations in the form of funds, supplies (such as hard drives, postage stamps and blank DVDs) and the volunteerism of everyone in the group. Last year we created a show about green burial to consider how to help the planet after you have died. You may consider ways to help Flying Focus, too, by adding a gift to us in a will or trust to ensure we can bring video as a tool for social change for years to come. Planned giving can be very important for a nonprofit, especially one with a shoestring budget like ours. Once your loved ones are provided for, please consider a gift in your will or trust to FFVC.

Meanwhile, in an effort to broaden how we communicate, we have signed up for a new service which allows people to text to our voicemail number (503-321-5051). If you want to be on a list to receive occasional (maybe once or twice a month) bulk texts about new shows being posted online or other FFVC activities, please text us and, if you can, let us know your cell phone provider name. The new service doesn't allow for mass texting so those texts will come directly from us. We also are encouraging viewers to text comments about our shows. If you want to help support this new technology, it is costing us a little over $7 a month-- perhaps you can support it with a $10 a month donation through Network for Good. We promise to use the other $40 for continuing production and education!!
---
Videos on the Web Updates:
After two years of hard work, we have posted all 27 of our "Busiversaries" on the web! Go to www.flyingfocus.org/retrospectivestreaming.html to check them out.
In late December, part 1 of our video of Dr. Guy McPherson, "The End of the World as We Know It" passed 10,000 views, which makes up roughly 20% of all our online consumption. Check out our three YouTube channels starting with youtube.com/FlyingFocusShows.
---
---