---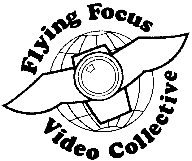 ---
Flying Focus Video Collective
February 2020 Newsletter
PMB 248 • 3439 NE Sandy Blvd • Portland, OR 97232
(503) 239-7456 • (503) 321- 5051 (call/text) • ffvc@flyingfocus.org
---
Police Accountability Dominates FFVC Programming in Second Half or 2019
Flying Focus has produced many shows about police accountability over the years. From July to December, three of our seven new programs focused on this topic.
Officer Retaliation Found by City Council in Historic Hearing
On May 16, 2019 history was made when Portland City Council voted to find officer misconduct after a civilian appealed the findings attached to her complaint. The complaint involved Officer Neil Parker, who in his interviews admitted he wanted to give Kristin Bowling a ticket because he didn't like the face she made while taking pictures of his armored vehicle. He claimed he only wanted to find out who she was. Under City Code created in 2001, the Council's decision is final, but it had never been tested until this case. In this two part show, Dan Handelman of Flying Focus (and Portland Copwatch) and Sam Bouman of KBOO FM guide viewers through two hearings that were held. The first one included the Chair of the Citizen Review Committee, arguing that Officer Parker retaliated against Bowling, and then-Police Chief Outlaw, who said there wasn't enough evidence either way. In part two, during the deliberations and vote, Mayor Ted Wheeler -- who acts as Portland's Police Commissioner -- makes it clear he disagrees with CRC and, ultimately, the process. This landmark show allows us to show what happens when the oversight system is flexed to its fullest extent. Thanks to a donation from Portland Copwatch, "City Council Finds Officer Misconduct May 2019" (VB #112.2&3) is streaming online at www.flyingfocus.org/CRC2019streamingpage.html.
Portlanders Ponder Police "Union" Contract
In anticipation of the June, 2020 expiration of the Portland Police Association ("union") contract, community members attended an August 26, 2019 forum to discuss ways to improve the Collective Bargaining Agreement. The forum began with presentations from Ashlee Albies, an attorney with the Portland National Lawyers Guild, Dan Handelman of Portland Copwatch, and Will Layng of Portland Jobs with Justice. The main organizer of the event, the Albina Ministerial Alliance Coalition for Justice and Police Reform (AMAC), is represented by Dr. LeRoy Haynes, Jr., the co- chair of the Coalition, and Joyce Harris, who moderated the panel. Over a dozen community members, many affiliated with organizations working on justice issues, asked questions and gave suggestions to make the contract more responsive to the people being "protected and served." In 2016, the community was shut out of the process and people who were still in City Hall after City Council adopted the contract were pushed out violently by police.

"Police Contract: Community Members Speak Out" (VB #113.3&4) was produced by Dan Handelman for Flying Focus and recorded by Barb Greene, with support from PC Peri. A clip from this program can be seen at: www.flyingfocus.org/videoclips2.html#PPAcontract.
Ready for a World Beyond Policing?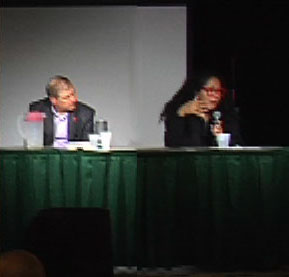 In October 2019, CAREpdx presented "Imagining a World Beyond Policing" at Portland State University. The event consisted of a panel of local and national activists, featuring Dr. Alex S. Vitale, Professor of Sociology and Coordinator of the Policing and Social Justice Project at Brooklyn College. He is the author of The End of Policing and is a frequent essayist whose writings have appeared in The NY Times, The Nation, Vice News, and USA Today. Other panelists were sociologist Julius McGee, author Kristian Williams, and activist Alyssa Pariah. Sociologist Aaron Roussell moderated the event, which included sign language interpretation. The event received support from PSU Departments of Sociology and the Honors College, along with other organizations at PSU.

Dr. Alex Vitale and Alyssa Pariah

"Beyond Policing" (VB #113.11&12) covers Dr. Vitale's talk and excerpts from the panelists' and audience members' discussions. The speakers present a very different view from mainstream media, covering the history of police reform, reform vs. abolition, authoritarian policing vs. social services, body cameras, prisons, and more. This show is streaming at flyingfocus.org/Vitale_streamingpage.html.
---
"A matrist culture is less likely to go to war. So that was pretty smart of the Cherokee people to say let's let the women make the final decision. So what does that tell us now? We've got the wrong people in charge." --from "Dr. Randy Woodley Peaces It All Together" (VB #112.12&13).
---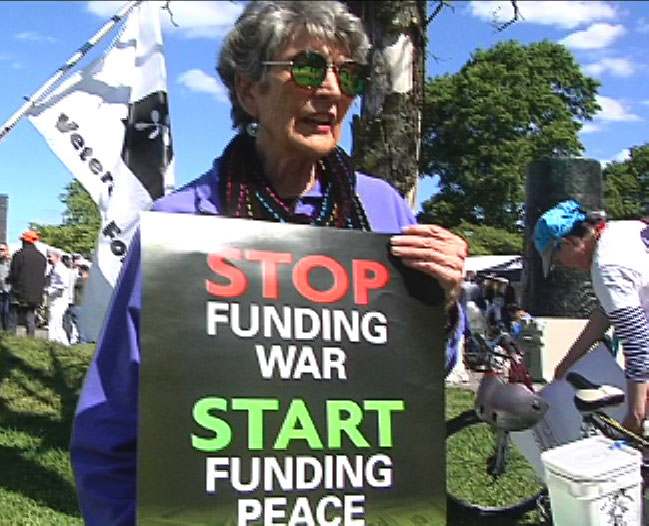 Protesting War Ships at the Rose Festival
Every year in Portland, war ships dock at the waterfront during the "Rose Festival," an ostensibly family-oriented month of events and parades. On June 8, War Resisters League and Peace and Justice Works Iraq Affinity Group held a visibility action next to the war ships (and their affiliated recruiting booths) which included a 10 foot tall "Tower of Peace" reading "War Is Not Family Fun." The show "War Ships Are Not Family Fun" (VB #112.10) includes interviews with some of the participants in the action. They connect military recruiting, military spending, and their lives of activism. This program was recorded by PC Peri and edited by Dan Handelman.
See Clips of Flying Focus' 28th Year
Once again, Flying Focus producers and volunteers came from behind the cameras to introduce clips from the shows produced during the previous year (Nov 2018-Oct 2019) to celebrate the "Twenty-Eighth Busiversary" (VB #113.7&8). The Flying Focus Video Bus premiered in November, 1991 and the "Busiversary" has marked each year by showing who's making these videos for social change and why they think the content is so important. Of the 13 unique programs (made up of 26 episodes) there were two shows each about Israel/Palestine, US policy in Venezuela, police accountability, and the wisdom of Rev. Osagyefo Sekou. There were also four shows about war and peace and nuclear issues, and one featuring Dr. Randy Woodley, a Native American activist and author.

In the two-part Busiversary, producers Barb Greene and Dan Handelman introduce clips with help from field coordinator PC Peri (who recorded all or part of 9 of the shows), contributing videographer Joe Anybody (whose footage along with PC's looked at the 100th anniversary of Armistice Day), and guest host Sam Bouman of KBOO-FM. Behind-the-scenes clips show the crew of the Busiversary to help demystify TV production and encourage more people to get involved. The Busiversary was produced by Dan Handelman and can be seen streaming online at www.flyingfocus.org/TwentyEighthBusivStream.html.
Dr. Alex Awad Explains Israel / Palestine
Rev. Dr. Alex Awad is a pastor from the East Jerusalem Baptist Church and author of two books on Palestine. In May, 2019, Dr. Awad spoke to a crowd at Portland's Peace House about the situation in Palestine. He began with a history of the conflict between Palestine and Israel, described the U.S. administration's cynical financial plan to resolve the conflict, and finished with things we can do here and signs of hope.

Dr. Awad has an insider view of the devastation that has been inflicted on Palestine by Israel with the support of the US and Europe, as his family was forced out of their home and his father killed by Israeli soldiers. His talk "Justice for All in Palestine/Israel" (VB #112.6&7) makes the situation devastatingly clear and understandable in a way that mainstream media never does. His explanation of Christian Zionism is particularly unnerving. Dr. Awad's calm humor and support for non-violent solutions make this a powerful presentation.
Native American Pastor Randy Woodley Deconstructs Stereotypes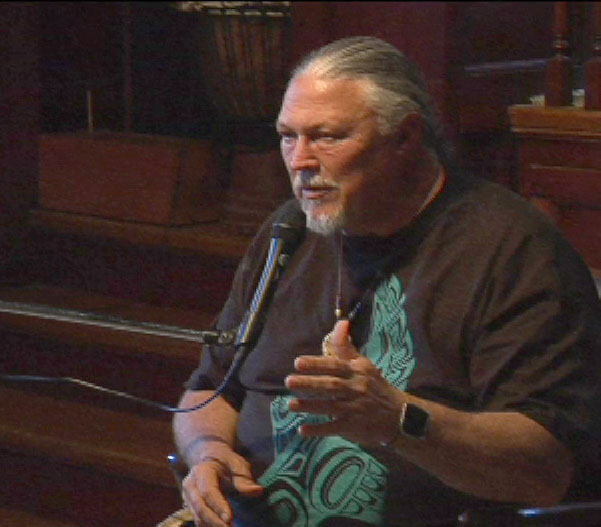 Dr. Randy Woodley is an activist, teacher and wisdom keeper who advocates looking to Native American traditions, knowledge and culture as means to avoid the kinds of conflicts generated by European American society. "Dr. Randy Woodley Peaces It All Together" (VB #112.12&13) features his talk at Peace House in Portland in June 2019. Dr. Woodley is the author of several books including Shalom and the Community of Creation: An Indigenous Vision.

A Christian pastor of Cherokee descent, Dr. Woodley describes his relationship with Christianity as "complicated" and infuses his talk with spiritual teachings and stories from his Native culture. His stated goal is to convert listeners to a sustainable, indigenous worldview from a western worldview, which clearly is not sustainable. In this program, he gives a Native American view of cowboys and Indians, war and peace, US "democracy" and the importance of women's influence on government. His storytelling brings the topics to life.
Ways to Support Flying Focus!
There are many ways to show your support for the work we've been doing here at Flying Focus for nearly 30 years.
Volunteer: We always need more people to help record, edit and distribute programs, plus help with office tasks such as mailing newsletters and filing. Contact us to volunteer!
Donate: Send a plain old donation with a check or money order, or go online to www.flyingfocus.org/donate.html.
Recurring donation: join those who support FFVC with monthly or annual donations by using our Network For Good secure online platform (or another of your choice).
Order a DVD (or other format): Donate toward a video for viewing and/or send money to support streaming that video online ($75 per program for individuals, $125 for institutions).
Nominate a DVD at the Library: Library members can fill out a request form at https://multcolib.org/suggest-purchase.
Remember us in your will: If you are in a position to leave a gift to Flying Focus, please consider doing so. Your legacy will live on!
Flying Focus has produced roughly 1000 programs on a shoestring budget of less than $10,000 a year and we appreciate anything you can do to help us keep going. Thank you!
---
---