---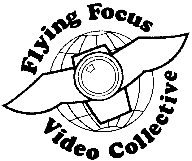 ---
Flying Focus Video Collective
August 2015 Newsletter
PMB 248 • 3439 NE Sandy Bv • Portland, OR 97232
(503) 239-7456 • (503) 321-5051 • ffvc@flyingfocus.org</ p>
---
Police Accountability Shows Feature Ferguson Preacher, Portland Authors
Two recent Flying Focus programs highlighted the nationally reverberating topic of police accountability. The first, "Black and Blue in Portland" (VB #94.1&2), features Karen Gibson and Leanne Serbulo speaking at Portland State University in October, 2014.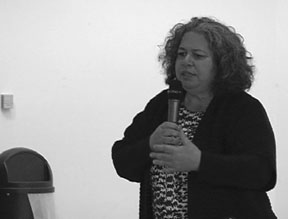 They received the Oregon Historical Society's 2014 annual Joel Palmer Award for their article "Black and Blue: Police-Community Relations in Portland's Albina District, 1964-1985." In our program, the authors explain how the tensions between police and the African American community grew out of the ghettoization during the period they studied. The Q&A includes comments from Nancy Hales (wife of Mayor Charlie Hales), Dr. T. Allen Bethel of the AMA Coalition for Justice and Police Reform, and former police officer Deanna Wesson-Mitchell, the Mayor's police policy advisor. This show was produced by Barb Greene and taped by PC Peri, with editing assistance from Dan Handelman.
Karen Gibson

The second, "From Ferguson to Portland: Race and Police Accountability" (VB #94.5&6), contains information from a November 2014 forum held at Portland's Maranatha Church. The keynote speaker, Pastor Robert White, is president of Clergy United in St. Louis, MO. Pastor White has been a major leader in the struggle for justice for Michael Brown, the unarmed African American teenager killed by Ferguson police in August 2014. White's distress at the violent response of Missouri police to the protests is balanced by his optimism to make change, which he in part attributes to solidarity work he witnessed visiting Portland. The Albina Ministerial Alliance (AMA) Coalition for Justice and Police Reform organized the forum, the second half of which was a community update on the US Department of Justice lawsuit against the Portland Police for their excessive use of force. This show was produced by Dan Handelman and taped by Chris Fuzell of Six-Ten Visuals, with assistance from PC Peri and April Adams.

Thanks to support from Portland Copwatch and the AMA Coalition, both of these programs are streaming absolutely free to viewers online! You can watch them at these individual links:
Black and Blue:
www.flyingfocus.org/BlackandBluestreamingpage.html
Ferguson to Portland:
www.flyingfocus.org/FergusonForumstreamingpage.html
Our full shows YouTube page:
www.youtube.com/FlyingFocusShows
Eating for Health and Sustainability
Sharon Palmer spoke at Portland Veg Fest 2014 about the benefits of a plant based diet, its growing popularity with the public, and its acceptance by Western medicine. A Registered Dietician, Palmer is editor of Environmental Nutrition, and author of "Plant-Powered for Life" and "The Plant Powered Diet." She outlined nutritional needs specific to vegetarian and vegan diets, detailing the protein, vitamin and minerals to be mindful of and food sources for each. Our show "Plant- Powered Nutrition" (VB #95.8&9) contains excellent information for anyone interested in a plant-based diet for their health and the health of the planet.
How Art Transforms Prisoners' Lives
Ashley Lucas is Associate Professor of Theater and Drama and Director of the Prison Creative Arts Project (PCAP) at the University of Michigan. On September 14, 2014, she gave a presentation at the First Unitarian Church in Portland about art and prisons. In the Flying Focus program "Prison Art Changes Lives" (VB #94.9&10), she shows slides of prisoners' paintings and drawings, explains how the PCAP works and describes how prison art programs change and save lives. She also gives an informative insider view of how incarcerating more than two million people in the US affects them and their families. Lucas performs a monologue from her one-woman play based on interviews with family members of prisoners. This is a moving and important program in a country that is locking up more of its own people than has ever been done before in the history of the world.

Note: Part 1 includes artwork depicting parts of the human anatomy normally not seen in public places.

Thanks to Claire Stock who donated for the streaming rights, you can now watch the whole show on our website at www.flyingfocus.org/PrisonArtstreamingpage.html and on our YouTube full shows page.
Two Shows Link Native Americans and Palestinians
Two recent Flying Focus shows were taped at the Boycott, Divestment and Sanctions panel discussion held at Portland State University on February 24, 2015.

One, "First Nations & Palestine: The Connection" (VB #95.4&5) was shown in two parts. The speaker in Part 1 is Kanahus Manuel, mother and warrior from the Secwpemc Nation in Canada, talking about how British Columbia does not recognize her tribe's right to the land.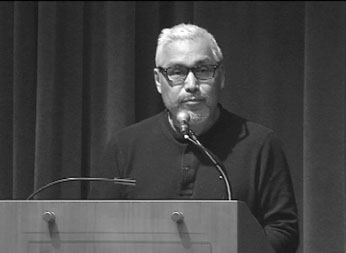 Part 2 begins with a talk by Cecilie Surasky, Deputy Director of Jewish Voice for Peace, a national organization working on Palestinian rights from the perspective of American Jews. Rounding out the conversation is Dr. Michael Yellow Bird, director of Indigenous Tribal Studies at North Dakota State University, who makes the connection between how Palestinians and Native Americans are treated as "savages" so that others may seize their land, claiming nobody lives there. • Streaming

Dr. Michael Yellow Bird
The other program features Omar Barghouti, a Palestinian intellectual and the co-founder of the Boycott, Divestment and Sanctions (BDS) Movement. As a Palestinian, Barghouti's views on treatment as "others", "savages," and colonized people are very clear. He speaks with a decisive energy about how to sustain a resistance. His one-part show is called "Omar Barghouti: Boycott, Divestment & Sanctions" (VB #95.12). • Streaming
These shows were taped, produced and edited by PC Peri with assistance from Dawn Regier (field) and Dan Handelman (editing). The event was sponsored by Students United for Palestinian Equal Rights (SUPER). For more information, see www.bdsmovement.net. Because the programs are related, we're offering a special rate if you want to sponsor these shows being online for everyone to enjoy -- the regular $75 streaming rights ($125 for larger institutions) will cover all three episodes.
Connections Among Global Warming, Militarism and Capitalism
On September 23, 2014, the same day the US attacked Syria, speakers at Portland's Multnomah Friends Meeting House addressed the ongoing US wars including Iraq and Afghanistan, relating them to environmental and economic justice issues. The event is captured in the two-part episode "US Wars, Climate Change & the Economy" (VB #94.13&95.1). In part 1, Jenka Soderberg of KBOO-FM News connects the wars and climate change, and notes the importance of movement building. Amin Wahab, an Afghan American who had spent 13 months working on water projects in his native country, talks about the US presence. Ian LaVallee, an Iraq War Veteran, relates personal experiences and encourages people to get involved. Maya Rotem, an Israeli-American Jew, speaks about American support for Israel's occupation of the West Bank and Gaza.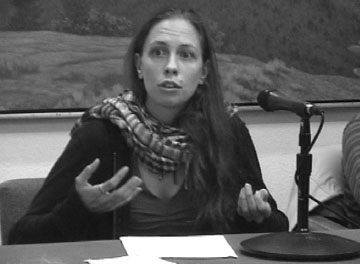 Part 2 includes Robin Hahnel, a former economics professor at Portland State University, talking about the connection between the economy and empire. And Lenny Dee, founder of 350 Oregon, talks about how changing habits around energy consumption could end the policies driving the US wars. Then all the panelists respond to audience questions. The event was taped by Allen Evans and produced by Dan Handelman. [--$45 of the money towards streaming rights for this show have been pledged to Flying Focus-- can you donate some or all of the other $30 so it can be enjoyed by everyone online?--]
Maya Rotem
UPDATE 3/16: Now streaming on line thanks to generous donors.

Flying Focus Video Bus Celebrates 23 Years of Programming
Our work to bring out important, otherwise uncovered issues is far from over. Please send an extra gift today and help us:

Stream video: While we are now streaming nine full-length shows (including "The Elephant in the Room" and others mentioned in this newsletter), we would love to have more shows covering all our topic areas from "Organizing for Change" to "LGBTQ Issues." Streaming rights are $75 for individuals/nonprofits, $125 for large institutions.

Upgrade and repair equipment: Even as we received a generous grant from the Mt Hood Cable Regulatory Commission (/Comcast) to purchase a number of hard drives (and videotapes) to edit and store our programs, we have encountered equipment issues with computers, DVD players and video decks that inhibit our ability to do our work. Your donation can fund repairs to keep the information accessible!

Help us continue to educate the community-- and the planet. Mail your tax-deductible* gift in the enclosed envelope today.

* Note: Video orders and streaming rights are not fully tax deductible; consult a tax expert for information.
---
---