---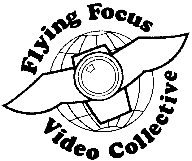 ---
Flying Focus Video Collective
August 2016 Newsletter
PMB 248 • 3439 NE Sandy Bv • Portland, OR 97232
(503) 239-7456 • (503) 321-5051 • ffvc@flyingfocus.org</ p>
---
25th Anniversary: Enjoy the Past with Us & Help Fund a Commercial_Free Future!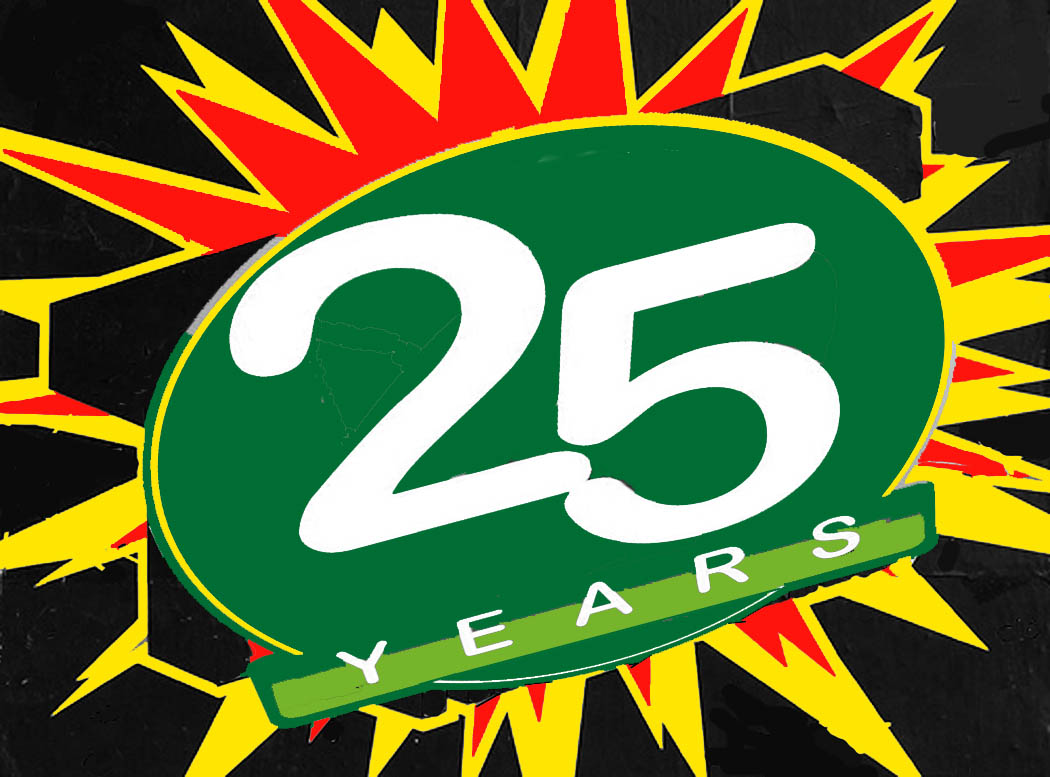 This summer marks our 25th anniversary of producing video as a tool for social change, voicing the voiceless. In celebration, we began running all 24 of our anniversary retrospective shows, the "Busiversaries," on August 8. The schedule features two years shown each week at 2 PM Mondays on Ch. 22 Comcast/Ch. 8002 CenturyLink, and 11:30 PM Wednesdays on Ch. 23 Comcast/Ch. 8003 CenturyLink (following the Video Bus' regular time slot). For more info, see our 25th anniversary page at www.flyingfocus.org/25years.html.
We want to emphasize our commitment to remaining commercial-free, even in online forums beyond cable access. Although several of our clips have received enough views to generate ad revenue on YouTube (www.youtube.com/Flying Focus), we still refuse to compromise our independent status. So, to fund our work we need your support! While we have many programs streaming on line (including two featured in this newsletter), we ask for one donation of $75 per program to keep our operations going and post the video for the whole world to see. If you are interested in making sure a show gets posted and can't gather up $75, think about asking others to donate too. We continue to make DVD copies available ($8 for 1/2 hour, $11 for 1 hour) if you still have that technology, and we're working on plans to distribute shows on USB flash drives. Let us know how you would like to watch our shows!
Things have changed since we were using VHS cassettes and had no effective way other than "bicycling" physical tapes to get out beyond the Portland Metro area. Thanks to your support, we've been able to keep up with the changes. We now have access to a high-speed internet connection making it easier to upload clips more quickly. If you want to be a sustaining supporter of that effort, consider signing up to send $10 a month online at Network for Good. You could also send a one- time (or annual) donation of $120. If that's too much, consider sending some portion marked "DSL Fund" to maintain the world's increased ability to view these important shows.
Renowned Advocate Erin Brockovich Comes to Portland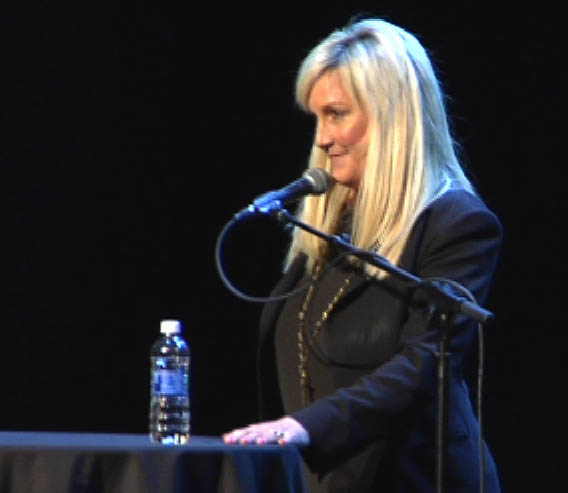 On April 2, 2016, the Eastside Portland Air Coalition (EPAC) hosted environmental activist Erin Brockovich at a community forum on air toxins in Portland. In 1993, Brockovich fought a successful legal battle against PG&E in California due to groundwater contamination from their use of hexavalent chromium. Since her major legal triumph, she has continued to advocate for communities who have been subjected to industrial environmental contamination. Concerns about toxins in the air, particularly from glass manufacturers, prompted Portlanders to push the Oregon Department of Environmental Quality and the federal Environmental Protection Agency to examine emissions affecting residents' health. Also speaking on the program are Tamara Rubin of the Lead Safe America Foundation, environmental / consumer attorney Robin Greenwald, and moderator Jody Bleyle of EPAC. This program was recorded by John Pacheco with help from PC Peri and produced by Allen Evans.
Eastside Portland Air Coalition (www.eastsideportlandair.org) sponsored streaming for the two-part show "Erin Brockovich: Environmental Organizing in Portland" (VB #99.10&11), find it at www.flyingfocus.org/Brockovichstreamingpage.html

Local Photographer Exhibits "The Black Portlanders Project"
Intisar Abioto is a Portland-based explorer, writer, dancer, and photographer who started The Black Portlanders project, a photographic journey illuminating Black Portlanders and their stories. She showed some of the photographs at Reed College during Black History Month, sponsored by the Office for Institutional Diversity, Committee on Diversity, and the Office for Inclusive Community. Our program "Intisar Abioto: The Black Portlanders Project" (VB #99.2&3) covers the opening reception on February 16. Intisar shares photos of people young and old, as well as a series of photos from the Sons of Haiti Masonic Lodge in North Portland.

In 2013, Intisar began work on The Black Portlanders(.com), an ongoing exploratory blog imaging people of diverse African descent in Portland. We think you will enjoy this program about a unique and rising young artist.
Reclaiming Our Lives from ALEC
The American Legislative Exchange Council (ALEC) is a huge secret political entity which creates legislation to keep wages low, fill prisons, bankrupt schools and poison our air, land and water. In "How ALEC Writes Our Rights Away" (VB #98.1&2), KBOO News Director Jenka Soderberg moderates a panel explaining how this ruthless, business-friendly organization works and ways to wrest back control of the country. The panel includes Civil Liberties Defense Center attorney Lauren Regan; co-founder of the Biosafety Alliance Karen Swift; Portland teachers / activists Hyung Nam and Elizabeth Thiel; beekeeper Jen Davis; and KBOO journalist Sam Bowman. The event was held at the Clinton Street Theater in November, 2015.
Protests Mark 14 Years in Afghanistan, 25 Years in Iraq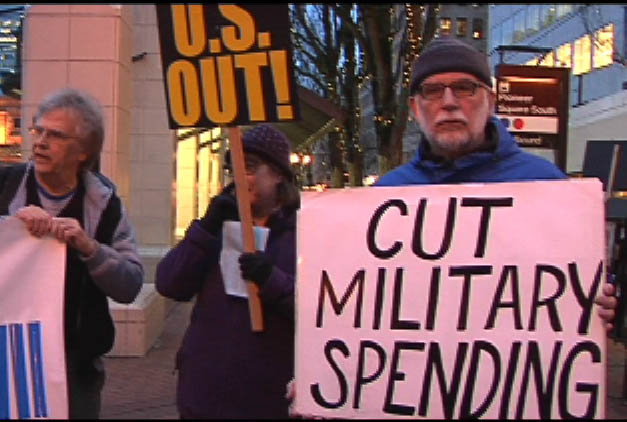 Two recent Flying Focus programs covered marches and rallies organized in Portland marking anniversaries of unending US wars. The first, "End the Wars: 14 Years in Afghanistan" (VB #98.5&6) features the October 11, 2015 "Call Out for Justice: End the Wars" mobilization. The action connected many issues from police violence to the environment to the economy, and the US occupation of Afghanistan that began in October 2001. The two-part show features music from the Raging Grannies, Mo Mack and Love Bomb Go-Go. The first episode has speakers including Syrian American activist Sam Kahl, Adrienne Cabouet of Black Lives Matter Portland and Ary LaVallee, an Iraq War Veteran. On part two, participants march through the streets to Portland Police Headquarters ("Black Lives Matter!"), the World Trade Center ("Money for Jobs and Education, Not for War and Corporations!") and the houseless rest area Right 2 Dream Too ("Housekeys, not Handcuffs!"). About 40 organizations cosponsored the event. Media coverage included a KGW story that showed both the march and the aftermath of US bombs that hit a Doctors Without Borders hospital in Afghanistan just days before. The show was produced by Dan Handelman from video provided by Mungen Cakes and PC Peri.
The second program, "25 Years Working for Peace in Iraq," (VB # 98.9) features not just the January 15, 2016 rally marking 25 years since the start of the "Gulf War," but also information about Flying Focus' first show ever, produced in early 1991 around issues raised by the war (?Peace Action Network?). The rally was organized by Portland Peaceful Response Coalition and Peace and Justice Works. Speakers talk about issues including that while the 1991 attack marked the first of three wars by the US against Iraq, counting the sanctions (1990-2003) and the continued occupation (2003->2011->2014...), the war has never stopped. This show was co-produced by Barb Greene and Dan, using coverage by PC Peri and John Pacheco. Thanks to a generous individual, this show can be seen streaming online at www.flyingfocus.org/GulfWar25YLstreamingpage.html.
Israeli Peace Activist Connects Militarism, Police and Middle East Peace
Jeff Halper, the Director of the Israeli Committee Against House Demolitions who has been nominated for the Nobel Peace Prize, spoke in Portland in February 2016. His talk, seen in our show "Jeff Halper: Globalizing Palestine" (VB#99.6&7), explores how Israel takes military technology and surveillance equipment tested on Palestinians and exports them to the rest of the world. Halper talks about Israel's deals to train military and police (including in the U.S.) that have made it an indispensable world player and allow it to "get away with" warehousing the Arab population within its borders and in the occupied territories. These issues are the subject of his book War Against the People: Israel, The Palestinians and Global Pacification. This two-part program was taped by FFVC volunteer John Pacheco with help from PC Peri, and produced/edited by Dan Handelman.
The Whats and Hows of Sharing Solar Power
"What is Community Solar Power?" (VB #98.11&12) features a February 2016 talk by two speakers given in Portland. They explained what "community solar" is and how it can be applied for generating electricity. Sure, you can put solar panels on the roof of your house, but what about the roof of an apartment, condominium building, or a church? Dan Orzech, General Manager of Oregon Clean Power Cooperative, and Jaimes Valdez, Policy Manager of Northwest SEED (Sustainable Energy for Economic Development) address the evolving technical and legal environment surrounding community solar, where it can be done, and how to get a project started. Through 2016 legislation, Oregon is discontinuing power generated from coal, with renewables such as solar encouraged to take its place. The two-part episode was recorded by PC Peri and produced by Allen Evans.
---
---