---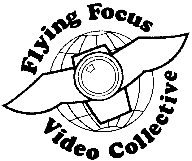 ---
Flying Focus Video Collective
August 2019 Newsletter
PMB 248 • 3439 NE Sandy Blvd • Portland, OR 97232
(503) 239-7456 • (503) 321- 5051 (call/text) • ffvc@flyingfocus.org
---
Visionary Musician/Organizer on Peace and Anti-Fascists
Rev. Osagyefo Sekou is a noted activist, theologian, author, documentarian and musician. Rev. Sekou has organized and worked for social and environmental justice in places like Ferguson, Charlottesville, Beirut, Boston, Iraq, Queens, Palestine, New Orleans, and Haiti. He is considered one of the leading figures in non-violent civil resistance and has trained thousands in the tradition of non-violent resistance throughout the United States. On March 29, 2019, Rev. Sekou spoke with local Pastor E.D. Mondaine at Portland's Peace House.
Rev. Osagyefo Sekou (L) and Pastor E.D. Mondaine
We produced two programs from this talk. In the first, " The Nature of Peace Today" (VB 111.5&6) , he talks about the nature of peace and justice in this "time of monsters" and about how we must hold governmental structures to a different kind of accountability from our fellow community members. This is an inspiring program with good information for all activists and organizers. In the second program, "Antifa Activists Saved My Life" (VB 111.13) , Rev. Sekou describes his experiences organizing with Antifa (anti-fascist activists), union members and LGBTQ folks to stand up to white supremacists in Ferguson and Charlottesville-- a fascinating talk and an excellent example of marginalized groups working together.
US Policy in Venezuela: Panel and Eyewitness Accounts
Two recent Flying Focus shows examined America's hostile policy toward Venezuela, including crushing economic sanctions and threats of military intervention. The first, "Opposing US Imperialism in Venezuela" (VB #111.1&2), features a panel discussion held on February 23. The speakers were Candy Herrera from the sponsoring group Hands Off Venezuela PDX; Francisco Aguirre, a local Portland organizer originally from El Salvador; Dr. Alma Trinidad, who teaches at the Portland State University School of Social Work;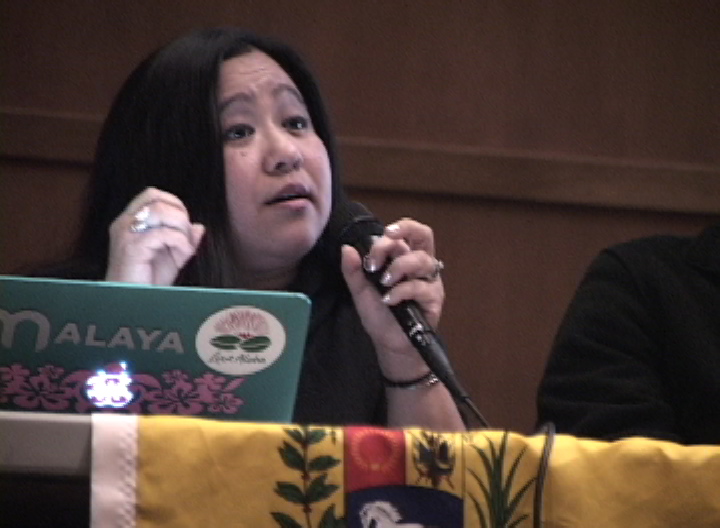 independent journalist Arun Gupta, and Kenneth Crebillo of the Kabataan Alliance for Filipino youth and students. Each brought a unique perspective to the history of US intervention in Central and South America and around the world, with words of encouragement for people to get involved to prevent further actions the US might take to strip Venezuela of its sovereignty in order to obtain its resources.

Dr. Alma Trinidad

The second show, "Eyewitness Venezuela March, 2019" (VB #111.9&10), was recorded on March 30 and features Dan Shea of Veterans For Peace Chapter 72. Shea traveled to Venezuela earlier that month as the US escalated its efforts to overthrow elected President Nicolas Maduro and replace him with their choice, Juan Guaido. His talk includes political analysis, slides, experiences, and personal information about what drives him as a Viet Nam veteran to oppose war. Shea was able to meet with ordinary Venezuelans and, when his return flight was delayed because American Airlines refused to fly in and out of the country, with Maduro himself. Both shows were recorded by PC Peri at Portland's Sunnyside Community Center and produced by Dan Handelman.
100 Years of Armistice Day
November 11, 2018 marked exactly 100 years since the armistice that drew an end to World War I, the "war to end all wars." Though internationally known as a day to celebrate peace, the US changed Armistice Day to be called "Veterans Day" after World War II, changing the focus from peace to war. Veterans For Peace remembers Armistice Day each year, with the Portland Chapter (#72) holding a ceremony featuring the ringing of bells and display of white poppies at Director Park for the 2018 remembrance. On this show you can hear several veterans describe their own experiences as well as the reasons to mark this day and work for peace. Our show covering the event, "Armistice Day 100 Years After WW I" (VB #110.6&7), was recorded by Joe Anybody (event) and PC Peri (interviews), and produced / edited by Dan Handelman.
Peace Prize Winner Advocates Abolishing Nuclear War + Art from Japan
In July 2017 following a decade of advocacy by the International Campaign to Abolish Nuclear Weapons (ICAN) and its partners, an overwhelming majority of the world's nations adopted a landmark global agreement to ban nuclear weapons: the Treaty on the Prohibition of Nuclear Weapons. It will enter into legal force once 50 nations have signed and ratified it. By late 2018, delegates from approximately 70 countries had signed it (not binding), and about 20 had ratified it (binding) with many more in the process of ratifying.

In November, 2018, Oregon Physicians for Social Responsibility (PSR), WorldOregon, and the War Prevention Initiative presented a discussion about nuclear weapons and the nuclear disarmament movement. This two-part Video Bus program, "End Nuclear Weapons Now!" (VB #110.2&3), includes a presentation of "Children Remember: Nuclear Stories Through Memories, Relationships, and Art" by artists Yukiyo Kawano and PSR Advisory Board member Chisao Hata. This powerful presentation arose out of a collaboration between atomic bomb survivors, or hibakusha, and high school student artists living in Hiroshima, and is a moving exploration of the tragedy of nuclear weapons use. The art was provided by the Collection of the Hiroshima Peace Memorial Museum.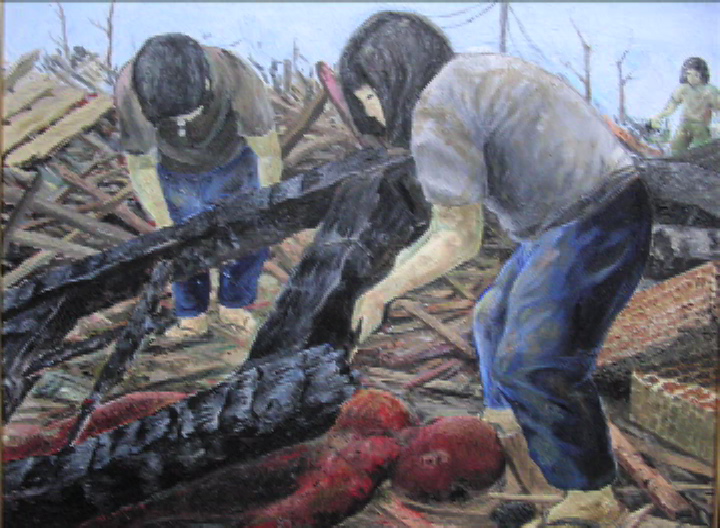 Artwork by Japanese High School Students
Also featured is the main speaker, Dr. Tilman Ruff, Co- President of International Physicians for the Prevention of Nuclear War (IPPNW, Nobel Peace Prize 1985) and founding international and Australian Chair of ICAN (Nobel Peace Prize 2017). He detailed the devastating consequences to all of us and the planet of any use of nuclear weapons and explained the importance and history of the treaty.
Healing Wounds in the Open Air Prison of Gaza
On January 13, 2019, Dr. Clyde Farris, an orthopedic surgeon from West Linn, had recently returned from a trip to Gaza where he worked with a team of Palestinian orthopedic specialists. He spoke at Taborspace in SE Portland, giving a first hand account of the humanitarian crisis in the Gaza Strip. In "Inside Gaza with Dr. Clyde Farris" (VB #110.10&11), Dr. Farris described the type of injuries he saw as a member of a delegation from Washington Physicians for Social Responsibility as well as the deplorable conditions inside what has been called the largest open-air prison on Earth.

The event was organized by the Portland Chapter of Jewish Voice for Peace and a long list of co-hosts including KBOO Community Radio. This show was recorded by pdxjustice media productions, and produced / edited by Barb Greene.
Streaming Video News: Support Flying Focus into the Future!
While we continue to produce our weekly show for Open Signal/Portland Community Media, Flying Focus is quite aware that many people are shedding conventional television and watching more video on line. We started our clips page ( youtube.com/FlyingFocus) in 2007 with the theory that most people would rather watch a short video than our full-length, half-hour or longer shows. Once technology made it easier to upload longer shows, we started posting entire episodes on line in June 2014. Five years later in May 2019, the number of views on the full shows page ( youtube.com/FlyingFocusShows) surpassed the number of views for the clips! Each page now has nearly 22,000 views. We're glad our viewers are interested in such in-depth coverage.

Helping put the Shows page over the top, we finally digitized and posted our 2-hour video covering Professor Noam Chomsky's visit to Portland in 1995. In the nearly two hour show, the noted analyst brings hard-to-find facts, a somber warning and a message of hope in a talk that touches on class warfare, health care, and history, all still very relevant today. Following his talk there were two Q&A sessions, one in the ballroom where the talk took place and one in the more intimate Multicultural Center. You can watch it at www.flyingfocus.org/Chomsky95_streamingpage.html.

A recent court ruling against one of the heroes of activist cable access media brings concerns about the future. Dee Dee Halleck, one of the founders of Deep Dish TV, and her colleague Jesus Melendez were banned from Manhattan's cable channels after they aired a program critiquing the board of directors. In June this year, the US Supreme Court ruled that a private entity running access channels on behalf of a municipality does not have to honor free speech as it would if it were a government entity. Meanwhile, the Federal Communications Commission (FCC) is set to pass a rule which would force cities to pay for public access channels. This would likely be the end of public access.

We need to expand alternative means of distribution to keep our show going. If you can help out with a donation, it will allow us to keep doing our work. Right now we ask for a $75 donation to cover the costs to stream a single show (whether it's one or two parts). If we can get 26 people to donate $75 a year on an ongoing basis, we may be able to start streaming all of our shows! It would be interesting to know how many folks are still watching videos on cable TV (Comcast or Centurylink) and whether you prefer watching shorter clips or full length shows on the web. Let us know!
---
"Christian Zionism is a theology that if Israel occupies every inch of the Holy Land, rebuilds their temple and resumes animal sacrifices in the temple in Jerusalem, then that will bring Christ a second time [and] 1/3 of the Jewish people will be massacred in Jerusalem. 40 - 60 million Americans believe in that." --Dr. Alex Awad in "Justice for All in Palestine/Israel" (VB #112.6&7 - Coming soon!)
---
---